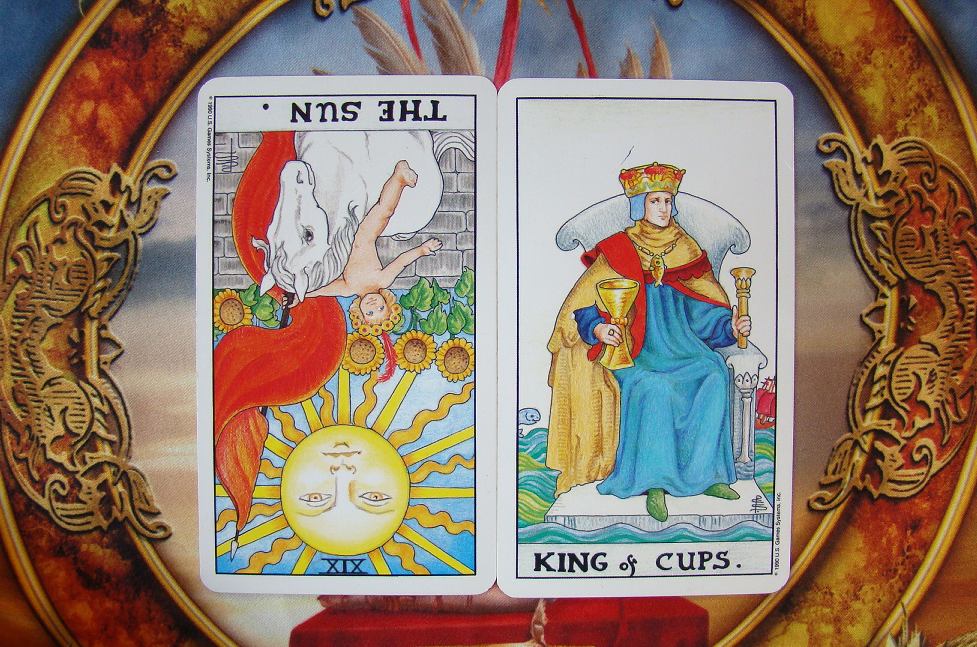 Every man casts a shadow; not his body only, but his imperfectly mingled spirit. This is his grief. Let him turn which way he will, it falls opposite to the sun; short at noon, long at eve. Did you never see it?
~ Henry David Thoreau
This Sunday, Thalassa joined us on Tarot Tribe: Beyond Worlds to talk about Sunday in Shadow (and to rev us up with some SF BATS goodness!).
That episode can be heard HERE.
Thalassa helped us come to terms with the positive things our shadow has to offer us, and she provided a quick 2-card spread that shed light on our shadow (pun intended), and I privately pulled these two cards during the show.
Funny, mine shed even more light, as I got the Sun for my shadow!
The first card represents where we are...inside ourselves.
The second card shows what is happening in our outside world.
I received The Sun Reversed, and The King of Cups.
Where I am inside now.
THE SUN REVERSED: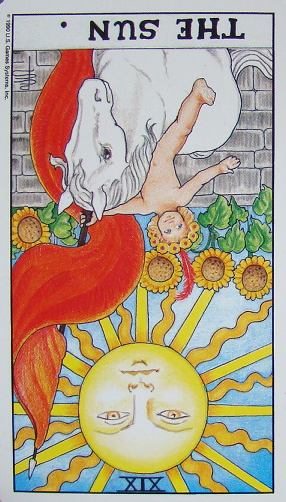 My mother has been diagnosed an illness that is aggressive and fast for its kind, and unfortunately, it is terminal and untreatable.
Trying to cope with her decline has made my insides tight and dark as I churn with the struggle of not having her beside me one day. Every day with her is a gift, and as time progresses, she will no longer know who we are or where she is.
This has created a cloud in my life that has overshadowed almost everything else I do. I feel a darkness, a period of emotional heaviness, and the child in  me feels suddenly hurled into the reality of mortality and coping with loss.I am emotionally burnt, and it feels like I am in the midst of a storm.
Dry. Parched. Burnt. And burnt out.
This certainly has darkened my world.
What is happening outside/the reality:
THE KING OF CUPS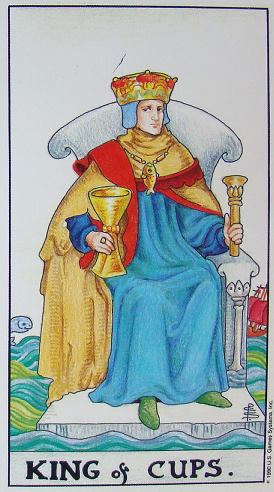 The reality is that I am surrounded by love.
This process has brought my family closer together than ever.
My relationship with my father has deepened as we hold each other up. When one of us feels weak, the other is strong. My sister and I have learned how close an alliance we share with each other. Our family has always been strong, and this card shows me the gift I have, that there is no turmoil in family divisiveness, that instead, I am surrounded by love and support. The foundation is a strong one, water surrounding us in every direction.
A river of love.
So while I feel a loneliness in anticipataion of her loss (a nurse told me they call this "Anticipatory Grief,") what I actually have surrounding me is blessed love, and I must use every moment I have with all members of my family as a gift of life and love.
This video below is a song my mother and I loved listening to together.
It speaks of wanting love and not feeling it, which is how the Sun card reversed spoke to me. I am searching for the water of love.

High and dry in the long hot day
Lost and lonely in every way
Got the flats all around me, sky up above
Yes, I need a little water of love
I've been too long lonely and my heart feels pain
Cryin' out for some soothing rain
I believe I've taken enough
Yes, I need a little water of love
Water of love, deep in the ground
But there ain't no water here to be found
Someday, baby, when the river runs free
It'll carry that water of love to me
But what there really is in our outside world is love all around, surronding me and my mom and my family  like the water around this King's feet. Water so abundant he can't escape his throne without walking through it.

Love will build a bridge.
My mother helped me with countless puppet shows (I was a professional puppeteer back in the day, an avocation I loved, with large feathered and furred, muppet-like characters). Mom would hand me the huge puppets backstage with perfect timing, and this song theme was the backdrop to a wordless story about a flower who wilted when ridiculed, and then grew with great and strong beauty with the power of positive words and the power of love.
I'd gladly walk across the desert
With no shoes upon my feet
To share with you the last bite of bread I had to eat
I would swim back to save you
In your sea of broken dreams
When all your hopes are sinking
Let me show you what love means
Love can build a Bridge
Between your heart and mine
Love can build a Bridge
Don't you think it's time?
Don't you think it's time?
I would whisper love so loudly
Every heart could understand
That love and only love
Can join the tribes of man
I would give my heart's desire
So that you might see
The first step is to realize
That it all begins with you and me
Love can build a Bridge
Between your heart and mine
Love can build a Bridge
Don't you think it's time?
Oh, don't you think it's time?
When we stand together
It's our finest hour
We can do anything, anything
Anything, anything
Keep believin' in the power
The Universal Waite Tarot, pictured above,  used with permission of US Games Systems, Inc., Stamford, CT.  Copyright 1992 by US Games Systems.  Further reproduction prohibited.
Reading cloth made by Maria and Ciro Marchetti. You can purchase reading cloths from Ciro HERE.

Here's wishing you a tarot-filled week with the recognized beauty of love.
Warmly,
Donnaleigh