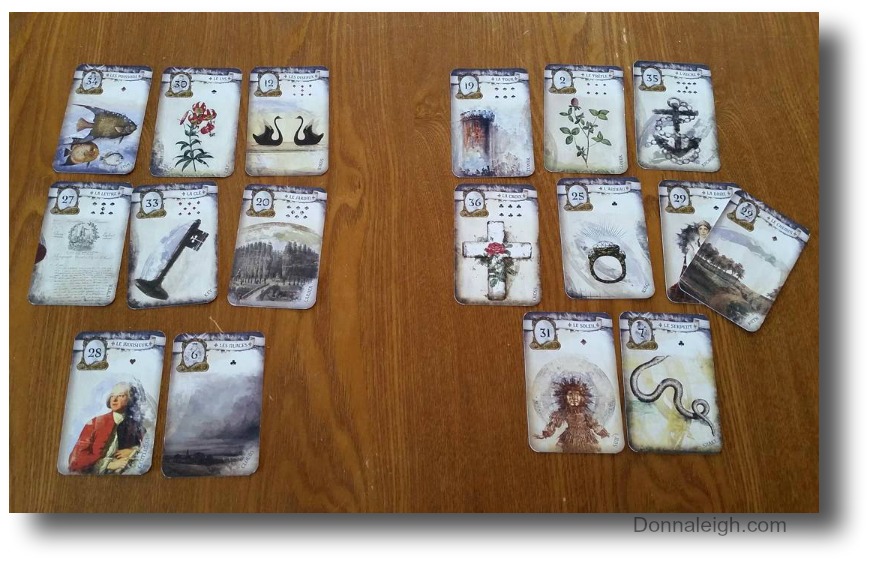 This weekend, on the morning of Feb. 7, 2016 (Superbowl Sunday),
I posted this card spread (pictured above) and the following prediction:
My Superbowl spread.
Deck : The Lenormand Revolution
A 6 card reading for each team, with 2 bonus cards at the bottom for added information on each team.
Left, Denver Broncos,
Right, Carolina Panthers
So far the cards have been 9 out of 9 games correct in predicting the winner for past, recent games. Let's see if they're still good to me tonight. The Broncos are not the favored team to win by the football experts, but my cards are favoring them as the winner tonight. I like Peyton Manning, so I'm hoping for their win, too
As it turns out, the cards were correct again, which meant it predicted 10/10 games correct. This is an exciting track record for the cards and demonstrates their practical usefulness in foreseeing events.
Details in this spread:
I was asked if I could explain some of the details I saw in the cards. So here is a detailed breakdown of what I saw and the thought process I went through while reading the cards. The following was posted on my Facebook page:
For those who saw me post my Super Bowl spread yesterday that predicted the win by the Broncos, I want to share what I saw. I am so excited to see the accuracy of the cards was 10 out of 10 games correct in this season. And each spread added a tidbit of information about that particular game that was amazing.
This 6 card spread is my favorite and most-used spread. It's one I use daily.  You'll see an additional 2 cards below each spread. I'll address those bonus cards shortly.
 1     2     3
   4     5     6  
(Bonus cards A + B at bottom)
I first asked if the Broncos would win, and threw down the 6 cards for the Broncos (image below).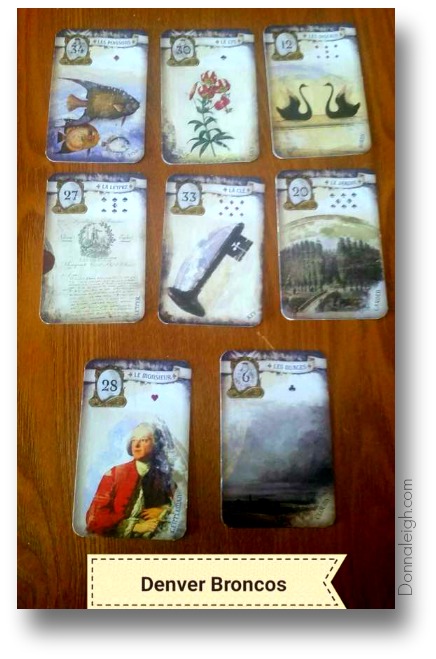 There are some good cards here, and the Key and Garden are great, and the Lilies shows long-term harmony. Fish at the outset shows a powerful financial gain when followed by the long-term Lilies. It's like an investment. Key says "Yes" with these lovely cards around it.
I then put 6 cards down for the Panthers and asked if they would win (see below).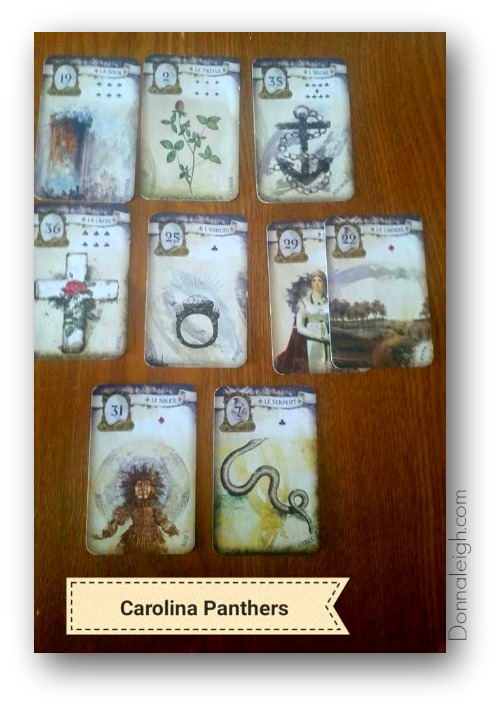 Tower and Cross is Iike saying "The enterprise falls." And they have had a series of consistent wins this season to come out on top, so this would ring true to them if they lost. There have had a very good season and lucky and long-term cards such as clover, anchor, and ring came up. But the final card is the road, which means a departure (think of taking an exit from the road you've been on). This does not mean a departure from the NFL. I think a good way to explain it would be that if we are asking about a win, that this is the corporate industry (Tower) of football hierarchy. The winners stay in and move forward to the next level. Those who don't win are eliminated from the pool this year. So a lose would indicate a departure from that pool that represents the hierarchy that leads to the Super Bowl, or the ultimate winners. So Tower/Cross indicates a grievous loss, and Tower/Road indicates a departure from the hierarchy or pool.
The Cross and Road are two cards here that suggest a negative answer, and the road being the final card is of particular significance. It's the final punctuation. I also read the first card (Tower) with the last card (Road) in this spread, which means "exiting the industry." So when it comes to the football industry and asking specifically about the Superbowl Win, this bodes as a "no." The Cross indicates significant grief in this departure. But it doesn't mean quitting the football industry/enterprise. The question is about winning a game. This is an exit to the hierarchy of winning.
The Fox card at the end of my football prediction spreads has come to mean a tie or very, very close game that has significant "tie" tension at the end. I noticed that neither spread contained the Fox card at all this time, so I made a comment to my BF that it did NOT feel like this was going to be a close game this time.
The 2 Bonus Cards:
Next I drew 2 extra (additional) cards for each team and asked for additional information about the team or game. These are each read as a separate 2-card mini-combo. These are just added nuggets to play with. You'll see these cards at the bottom of each six-card spread.
The Broncos got Man and Clouds. In the comments under the original picture of the spread, @Tina Hardt quipped that she saw "Manning finishes with a mild concussion." I have to admit, while I didn't see it was specifically Manning, I also wondered if someone would suffer a head injury on the Bronco's team. One player did, but in talking to my BF before the game, he said he wondered if this indicated confusion about what to do with Manning after a win like this. Apparently Manning wants to retire after this season and has been on the bench for much of the season due to an injury. He played recently and did very well after fans wondered if his replacement player would end up being a permanent replacement for him because he was doing so well (some felt better than Manning). I hear Manning has one more year on his contract, but they are wondering whether to keep him on the bench or allow him to continue being their primary quarterback. So this win may be instigating those discussions and its impact on finances (go back to the original Fish card at the outset of this spread, the Birds and Garden meaning discussion by the team or community at large.
The two additional cards for the Panthers were Sun and Snake. These were VERY significant to the interpretation I brought into the prediction. The Sun to me is "the BIG win" and last year it represented the actual Super Bowl win in 2 readings I did on the Patriots. But followed by Snake here is very, very bad. Therefore, Sun and Snake here instantly brought me to "Win trouble! Fail!"
A funny meaning Sun/Snake gave to me *after* the game was over is.... If Sun is exposing something and Snake indicates something bad...this could also mean "The Ads Sucked!" (Marketing fail) wink emoticon And yes, Tina, I totally agree with your interpretation of "Carolina's glory under attack!"
I hope this is helpful to those observing this spread and prediction, and I would be curious to hear any additional comments or things you saw in your own spreads.
Warmly,
Donnaleigh