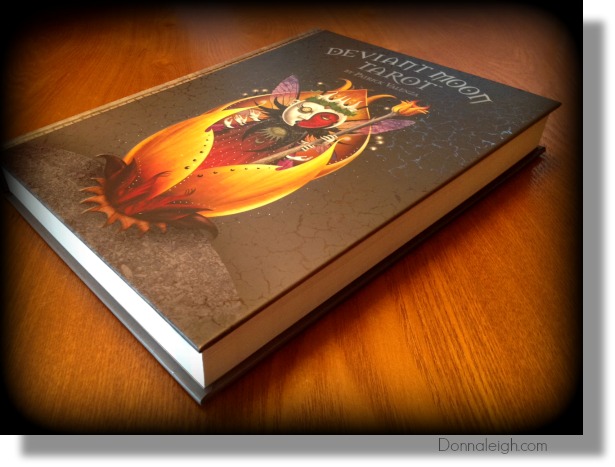 A Secret Peek at The Deviant Moon Tarot book by Patrick Valenza
There is something about a book that is magical and timeless. Its ability to transport us to different times and places, or into the mind perspective and imagination of another person is nothing short of miraculous. And yet still, there are some books that are further set apart from the others by their dazzling, memorable magic and unforgettable journeys.
The Deviant Moon Tarot, a forthcoming book by Patrick Valenza, is an absolutely decadent dessert full of succulently sinful wonders. And for all its richness, it won't make your waist any thicker, though it will brighten dark corners of your day and satiate your appetite for more. If you have fallen in love with the Deviant Moon Tarot, the book about the deck is an absolute must-have that will add much insight to the details in your deck.
This is no small book.
This hefty coffee table monster is large, measuring 8.25 x 10.5 inches on its hard cover and is 1.25 inches thick with a whopping 340 pages. The cover has an embossed glossy sheen and a slightly raised texture when one's fingers are brushed across its cover. You will be tempted to massage the cover as I was. When you move the book in the light, moonlight dances across the raised embossing and shards of light glint off the gold and silver embellishments. Below is the opened book with my large, Android Galaxy 5 phone it for size comparison.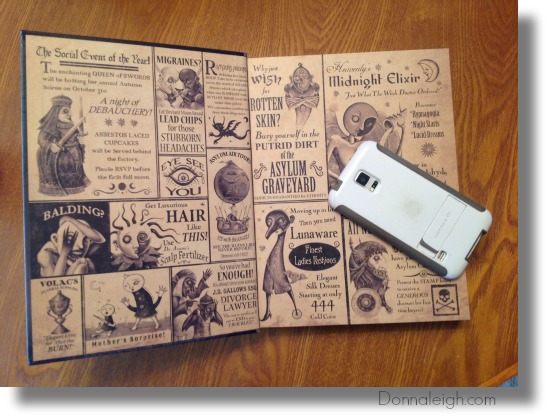 The inside covers of this book features an aged, rustic newsprint-look (image above). Several hilarious spoofs of advertisements feature Valenza's curious crew of caricatures. The paper quality of this book's pages is exquisite, smooth like cream, with a rich, clear sheen to the ink. The pages are not pure white, but instead have a faint digital texture that resembles parchment paper. This is a high quality book through and through.
When I asked Valenza what inspired him to create the humorous advertisement-inspired cartoons to the inside covers, he said, "Back in the '70s, Wendy's restaurants had old time newspaper ads printed on their tables....I loved reading them as a kid----somehow they got mixed up with the deviant moon!"
What's in the book?
This book's content is centered around Valenza's actual creation of the Deviant Moon Tarot deck, how it was created and how to read it. You'll enter the mind of the author and go on a wild ride of beings that reside on the side of dreams. Valenza's well-loved tarot deck is one of the most popular modern decks available today.
Through this book, you'll learn about the birth of the unique characters in the deck, many by happy accidents and others through very conscious shifting of designs. He also describes pieces and items found within the cards that add to meanings. I was surprised to learn that he would often craft clay items of things found in his deck to assist in his drawing process, and photographs of these crafts are included.
Valenza describes how he merged photo-manipulation with his card images to add textures. "Instead of painting the cards as I did in my youth, I decided to use my photo collection to create the deck digitally." He explains, "I simply scanned the old cards into the computer where I applied various photographic textures. I bent, twisted and reformed the tombstone photos to become the capes, boots, hats and robes worn by the Deviant Moon citizens. Using the photos I took from the insane asylum, I created all the background buildings pictured in the cards. Rotted doors, windows and walls became castles, factories and cities."
View the table of contents below, to see how the book is arranged: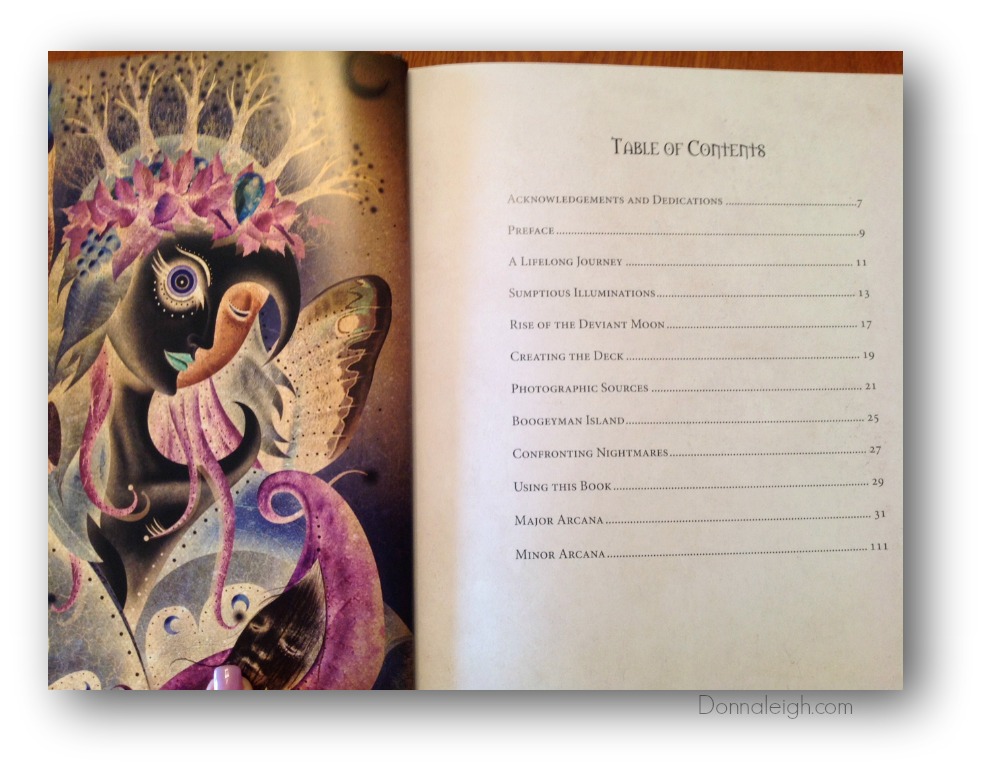 You may find a few shivers in The Deviant Moon Tarot deck. It sometimes shocks its audience with its eclectic, wild and often insane characters, who flaunt additional limbs and show split counterparts to their faces, a brilliant combination of duality. Add to that the rich images and textures that color these characters and their environments, with the colors gleaned directly from insane asylums as well as actual gravestone inclusions.  Add Valenza's dream-like story-telling through pictures, and you'll see why this deck is quite often described as both whimsical and "dark," Patrick clarifies the darkness of the deck in his book, however. He writes, "On first impressions, the Deviant Moon Tarot may appear to some as a dark deck. However, in the following pages, you will find that is hardly the case. This is a deck about self-empowerment. The Deviant Moon merely asks you to look within yourself and to face your fears."
Information about each card...
The book explains in delightful detail how each card image was inspired, and this is where I found the true magic unfold. Many of the images originated when Valenza was just a boy and he includes photographic images of his original childhood sketches along with images of the structures that created the textures he used in the cards. Valenza includes a generous section for every card about both upright as well as reversed meanings. Readers will find the depth of this information invaluable to their readings.
The Major and Minor Arcana cards are treated with equal weight with the generous portions of information provided. Want more? Every card explanation is accompanied by a gorgeous, large, full-page and full-color image of each card in the deck, larger than life and with astounding color, textures and details.You'll see things in this book that didn't make it into the deck: a peek backstage! These gorgeous images surpass even the beauty of the images in his deck because with the increased size is increased clarity and detail. The font is a delightful dance: easy on the eyes and a pleasure to read.
I think my favorite part of the book is when Valenza describes the birth of his Temperance card angel as being through a "happy accident" or two when he tried painting for the first time at the age of 12 when he was home sick from school. This serendipitous mistake created a powerful technique he used for many of the Deviant Moon citizens shown in the deck. I also loved the actual photographic resource images Valenza includes of the insane asylum and graveyards that were used to photograph texture featured throughout the deck. The merging of digital art and manual drawing intrigued me, and I wished I could see a fast-forward of Valenza creating a card from start to finish. Even Valenza's very young daughter had a significant influence on the deck's creation: her actual hands are featured on many of the Deviant Moon characters and her opinions even shifted the entire Pentacles suit, a very interesting story that shows his dedication to the crafting of this deck!
This book would make a wonderful gift (even to oneself!) and it makes a strikingly proud and intriguing display on a coffee table. It can be read in long bouts of book binges, or in short spurts of daily breaks. I read it behaving much like I do when I'm starved for a good meal and I can't decide whether to wolf it down as fast as possible or to enjoy every delectable microsecond of its delicacy in slow motion. I was constantly torn between the impulse to binge and the realization that there were thousands of textures, tastes and details to focus on....my heart definitely started to beat faster with great glee as I turned the pages.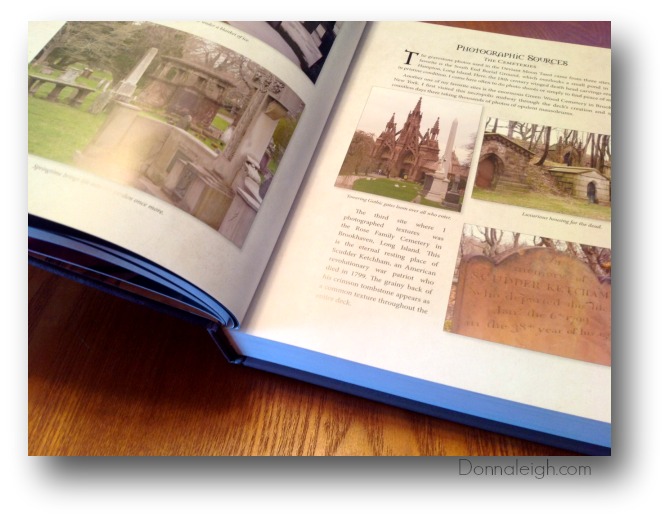 Above, Valenza reveals many of the texture resources displayed in the colorful characters of his deck. This is just one page sample of many that will tantalize lovers of this deck.
I asked Valenza about the time involved in such an enormous book that contains so many memories and attention to details. He replied, "It took nearly 3 years to write...sometimes one letter at a time. I really give writers A LOT of credit! I originally thought it would take 3 months....surprise! I used to wake up at 3 in the morning to work in complete silence. When creating the deck, many images just "appeared" in my mind, but writing the book made me go back and analyze the aftermath."
CLICK on the image below or CLICK HERE for a 15 second peek under the hood...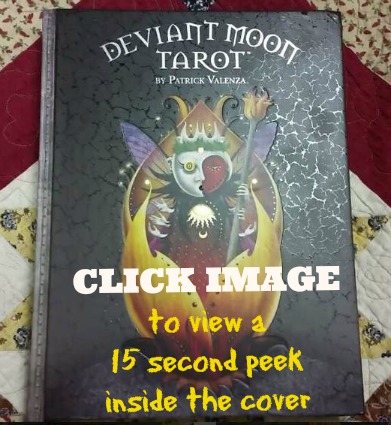 Let's open the book together for 10 seconds.....
click on the image below, or CLICK HERE.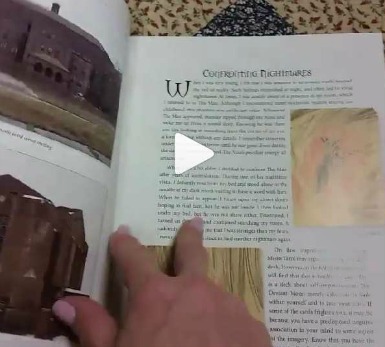 You'll see cards and images that were discarded and redone,
a peek behind the curtain at what no one has seen before....
clickon the image below, or CLICK HERE for a taste...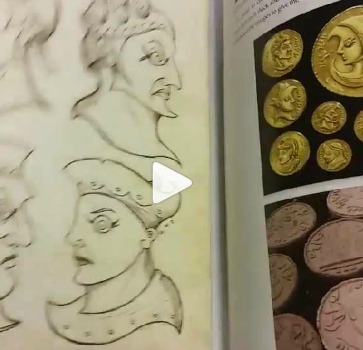 In the Deviant Moon book, every single card, both Major and Minor Arcana, contains info on inspiration for the card's inception, both upright and reversed meanings, and more details about how the card developed. So much juicy information. ..fun to read and adds great depth to your readings. ..
Click on the image below or CLICK HERE for a 15 second video sample.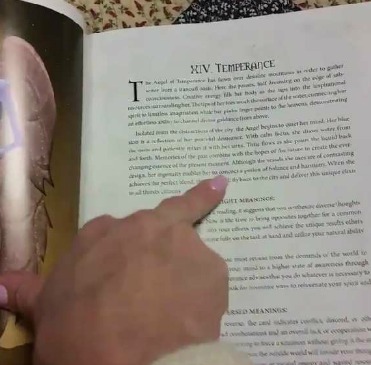 How to buy this book...
The Deviant Moon Tarot book is not yet shown online and won't be available for purchase or pre-order until it is actually in stock at www.usgamesinc.com, which will be in just a few more weeks. The price is expected to be $39.95. It will also be featured Amazon.com once stock is available.
Look for this book in just a few weeks through U.S. Games, Inc., and Amazon.com.
This is a 5-star book, highly recommended and not to be missed.
Want the actual Deviant Moon Tarot deck?
You can get it here, and the borderless version (my personal favorite) can be found here.
Warmly,
Donnaleigh