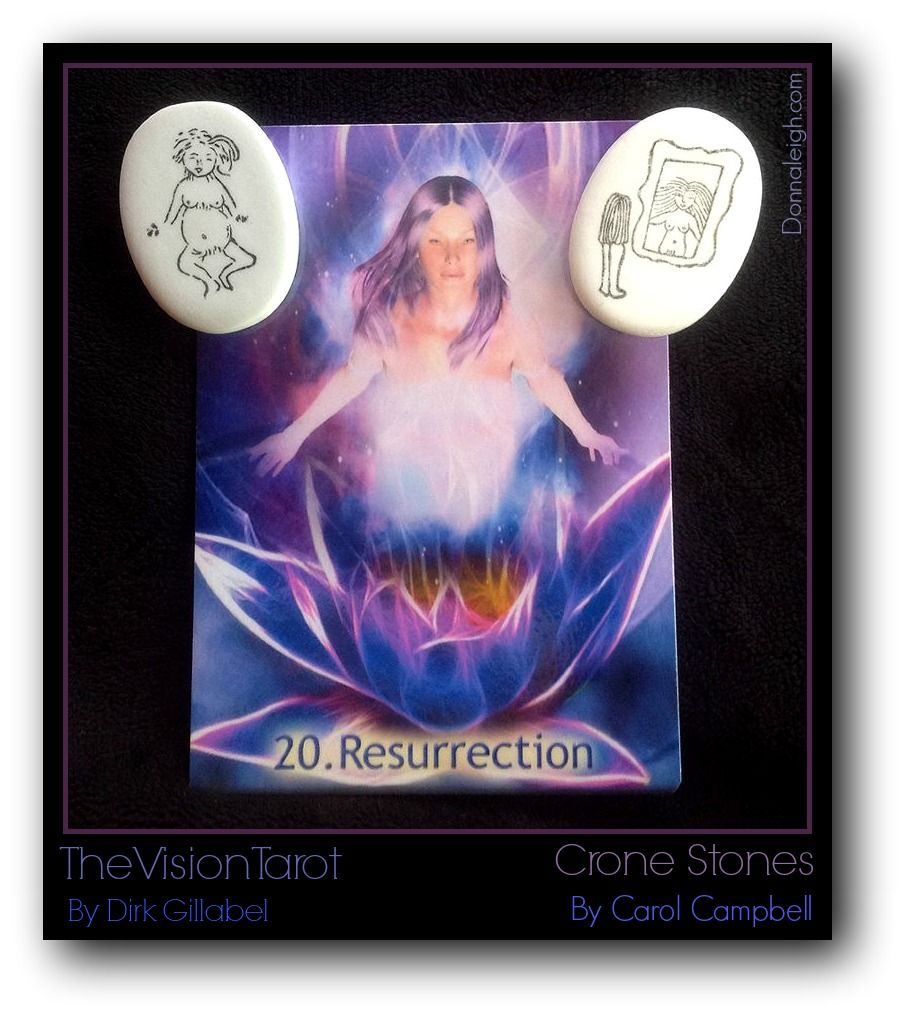 The Visions Tarot, by Dirk Gillabel
Crone Stones by Carol Campbell
This card and these stones are:

Card #20. Resurrection (equivalent of the Judgement card)
Mother (left Crone Stone)
Beauty and the True Self (right Crone Stone)

Interpretation
Today, I release judgment on my body. I will rise above and nurture myself like a loving mother to her child. I realize that what I see in the mirror is a partial reflection of the powerful light that radiates from me. My body is my vessel of freedom. How can I let my light radiate today? Am I honoring both my inner glow and my physical self?  How can I release the false standards of culture so that I can see all the beauty that resides in me?

11 WAYS I Can Express Love To My Physical and Spiritual Body:
Each of the following 11 expressions of Love can be used as a daily affirmation to ourselves.

1.)  Today I release the need to define "good" or "bad." It is time to resurrect. I release judgment of my physical body. I love all that is available to me through my body. All this allows me to engage with the world!

2.)  Today, I honor my body, my vehicle in the physical world, for to the places it brings me. What remarkable things it can do! Today, I challenge one body part to try something it has never attempted before.


3.) I will honor the differences in my body. It's time for me to let go of frustrations for my unique stamps of character and see beauty in places that I used to perceive as flaws. I will let go of jealousy, comparisons, or longing to be different.

4.)  All this is "me." All this is perfectly me.  Today my body consciousness will reflect a sense of sheer awe for what I have available to me through my body.

5.)  I will nurture my body with healthy eating choices, with gratitude and without judgment. I will focus on resurrecting the best in myself, allowing it to rise to the surface. I will push my body toward things that nurture it in a reflection of health. When I nurture my body, it in turn nurtures me with gratitude and strength.


6.)  I will foster partnerships that encourage love and reflect back to me the beautiful soul that  I am. Today I will turn away from those who diminish any part of who I am. If I cannot fully let them go, I will let their words reflect off of me and return to them as a blessing: "May they learn to love themselves more and accept the uniqueness in others."


7.)  I give gratitude that my body facilitates my physical freedom. Today I will take a look at my body and redefine what it is. How do the blessings of the left and right sides of my body impact how I move in the world? How can I match the outer perception of my body to the inner light that shines within me? Today, I will glow, radiate, and shine joy from my heart.


8.) Today I will nurture my physical body as an expression of gratitude. Some ways I can do this: Take a bubble bath. Dab fragrant oils of rose or lavender on my skin. Soak in some light therapy -- take a walk to invigorate my limbs, lung and heart. Buy something that will make me feel beautiful, whether it be a comfortable blouse, velvety pajamas, new blush or compact, or something for my hair. Get a massage, have my feet rubbed, get pampered at a spa. I can explore a yoga or Qi Gong class. I will make healthy food choices. I will move my body as much as possible. I will release any inhibitions with my partner and use my body as an expression of love and a deep spiritual language.


9.) Today I will nurture my inner light that shines. Some ways I can let my soul radiate: Smile; offer a kind word; assist someone; allow someone in front of me in heavy traffic; meditate, clear out negative people and replace with people who encourage or foster my growth; clean my living environment and feel the impact it has on my inner cleansing; plant something and facilitate life; visit an animal shelter and ask to volunteer (even if I can relieve some of the dogs by walking them outside for ten minutes). Visit a place that I find spiritually sacred and allow it to absorb into my body, to recharge my source of light.


10.)  Instead of focusing on things I wish were different about my body, I will make a list of what is going "right" with my body. What is healthy? What does it bring to me? Where does it take me? How does it bring abundance to my world? Somewhere is a person wishing for a body part I take for granted. Today, I give thanks for all that is going right with my body and rejoice with playful gratitude. 

11.) Today I will be a loving reflection by expressing beauty to someone around me. I will give a compliment about what makes them unique and beautiful. Through this, I will feel joy reflect back to my own inner reflection. I will learn to appreciate what makes people beautiful, both physically and spiritually, and allow this to reflect back to my own perception of self.

How I Interpreted This:
Below is information from the guidebooks of these oracles, abbreviated and slightly paraphrased.
The Judgement card here has been retitled "Resurrection." It reflects rising above the material world and becoming what in essence we always were and will be. Being in our earthly body, we are able to create and move, but we are so  much more than our physical flesh.
The Mother: The Great Mother Goddess religion is referenced here, and in China she is Kuan Yin. She nurtures, and she reflects and solicits goodwill to the laws of nature. Her body is the landscape of the world. One Great Mother of myth is Hera. Sadly, Hera is most remembered for her anger and jealousy in the Greek myths. But she is not worshipped for these qualities. Her behavior noted in the Greek myths is a remnant of a mother appalled by the mistreatment of her children by an antagonist. Shen this stone is turned, the Great Mother is asking you to create powerful partnerships in your life. These are relationships that do not ask you to compromise your body for what it is, or your mind, or self worth, or submit to anything that would cost you your dignity.

Beauty and the True Self: She confronts her reflection. Look for options on how to care for yourself; consider how you see yourself, count your blessings.
Warm expressions of love from my body to yours,
Donnaleigh