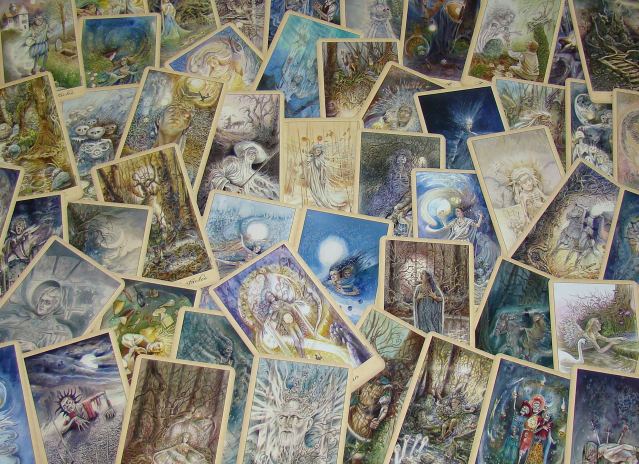 The Ghosts & Spirits Tarot Deck is used with permission of U.S. Games Systems, Inc., Stamford, CT USA. Copyright 2012.
Further reproduction prohibited.
Enter the Ghosts & Spirits Tarot,
featuring ethereal ghosts emerging from legends and lore...
Title - Ghosts & Spirits Tarot
Artist - Lisa Hunt
The symbolism in this deck has a solid foundation. Lisa Hunt earned a Master of Arts degree in Interdisciplinary Studies from Union Institute and University (Clarissa Pinkola Estes' alma mater) and Vermont College. Her Area of Concentration was The Exploration of Jungian and neo-Jungian ideas in the context of art and symbolism with an emphasis on animals and tarot imagery. Her background creates the perfect base for creating psychologically probing imagery and allowing us to find our shadow through symbols....and through tarot. We are in good hands with this artist, with more than just her artistic flair.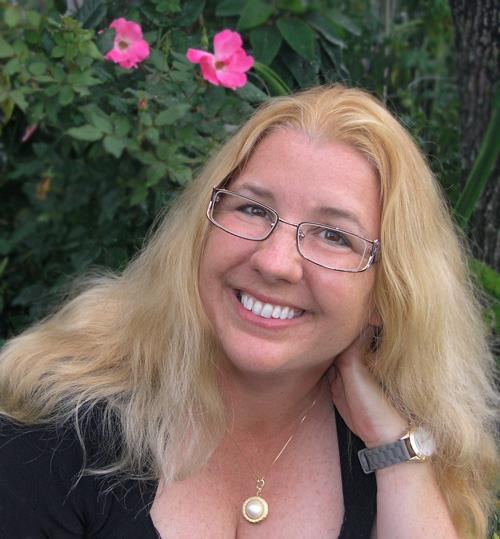 Publisher - U.S. Games Systems, Inc.
Style of Art - Intricately detailed water colors.
Card stock - Normal card stock, easy to shuffle, not too thin
Finish - Matte
Shuffles - Easily
Card size -  Four and 3/4 inches by two 3/4 inches  (4 3/4 x 2 3/4")

Size/readability - Rich with imagery in a standard card space. Be prepared to sit and peruse the imagery to find the depths of what truly awaits.
Font - Fine, italicized
Color - Overtones of blues to represent the dark nightly tones, along with vibrant rainbow splashes of color in clothing and landscapes

Backside -A swirl of 3 ghosts. While one can tell which way is reversed if one truly looks, overall it rather honors reversals.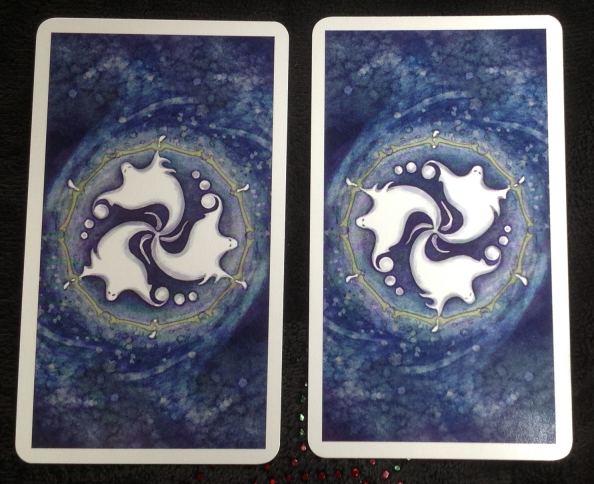 Above, the card backs

Number of cards - 79 (22 Major Arcana, 56 Minor Arcana, and one extra bonus card)
Elements Represented by: Cups, Wands, Swords, Pentacles
Courts:  King, Queen, Knight, Page
Strength/Justice = Strength is 8, Justice is 11
Major Arcana = Fool plus 21 cards, traditional titles/names based on RWS system, plus one additional card (untitled).
Aces - Whereas some decks separate the Aces with more simplistic imagery (hand coming out of a cloud, or just the suit), this deck treats the Aces (and Courts, Majors and Minors) with equal emphasis as the rest of the deck for on the picture and ghost story.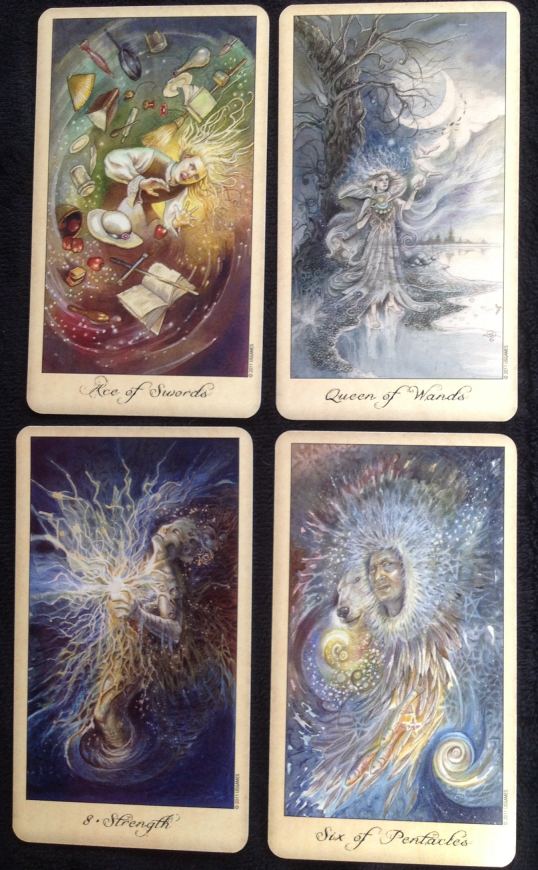 Instruction booklet - Standard Little White book. Sturdy meanings for each of the Majors and Minors. A suggested spread is included in the back. The LWB is necessary to fully understand the history of each legend.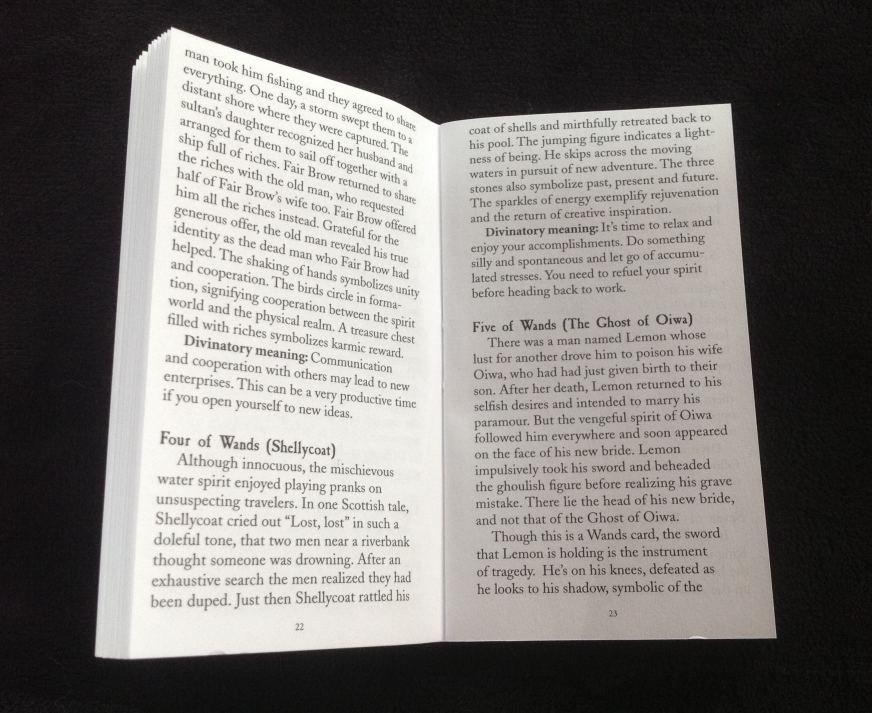 Tarot Style (Marseille, RWS, Thoth): Rider-Waite-Smith themed meanings prevail through most of the cards; reading the LWB does help clarify how the stories apply.

Unique trait/s - Dark, often creepy, mystical, and other-worldly, these detailed images will give you the opportunity to enter dark forests, rain-soaked ponds, and mythical places. The lore of the ghosts provided is a unique learning experience in itself. As with Lisa's previous decks, if truly appreciated, there is a college education waiting in the imagery. Smart symbolism and hidden images tucked between the shadows have voices of their own. Lisa's decks are much anticipated each time a new one comes out.

Packaging - Light  cardboard box. A protective container would help to keep this deck protected.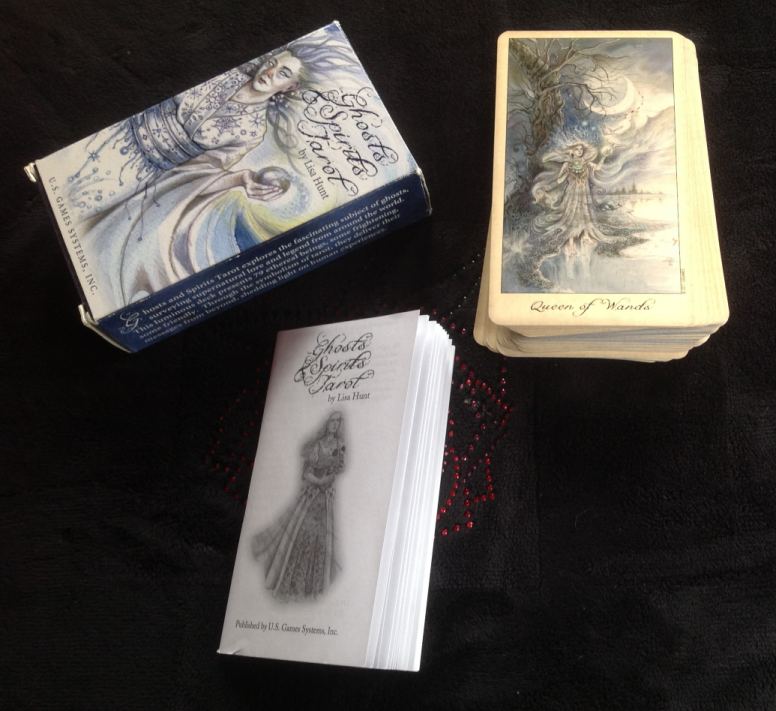 Price - Inexpensive. $15.17 at the time of this review.

Border: Subtle wheat/sepia-colored border that adds an aged look to the cards.
Awards - This remarkable deck was voted as one of the Top 10 Tarot Deck published in 2012 by AeclecticTarot Forum members. It also won the Reader's Choice 2013 Award by the About.com community.
Bonus Card: An untitled Bonus Card is included in the deck for added reflection.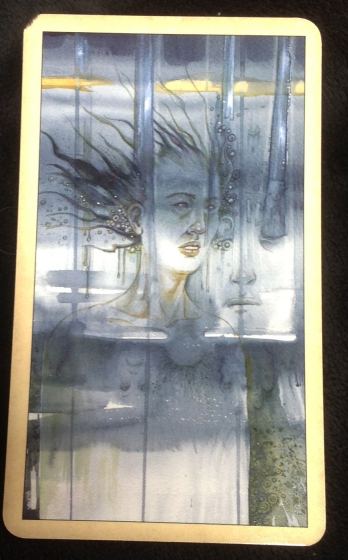 This piece in particular has the 4 of Swords sentiment and was an actual contender for the 4 of Swords card.
Lisa reports:
"I actually created two paintings for 4 of Swords and had the public vote. The votes were so close and both paintings were so liked by USG that they decided to include the card as an extra. Factoid: Mary Greer had chosen this one!
"This painting was actually a premonition---painted one week before the Japanese earthquake/tsunami. I was very depressed when I painted it---as I felt something was off with the universe. I'm not saying I'm a prognosticator, but even this episode during my artistic voyage freaked me out a little. I was thinking devastation when I painted it. This is not the first time this has happened to me though of course, I'm a big believer in synchronicity too.
"I was also thinking flood waters, entrapment, hopelessness. If you look closesly, you can see tormented souls trapped in the waters below. The waters represent the unconscious (and from a Jungian perspective, the collective unconscious). All is quiet, ethereal, reflective after a period of turbulence, but the souls are trapped and aimless. The ghost in front and center carries the pain on the earthly plain, is the manifestation of misfortune."

Opinion of this deck - Some foods are meant to be devoured by the handful, and others are meant to be savored, with each delicious, precious bite washing over the palate in a slow, meditative dance of taste. So it is with the Ghosts and Spirits Tarot. Usually I throw droves of cards down in a reading, to get an overall feel for the message. With the Ghosts & Spirits deck, a single card will take me on a deep inner journey. A great amount of time can be enjoyed with just a single card pulling out meanings, allegories, and emotions. This deck would make an excellent journaling activity, letting the pen flow with metaphors between cards and our lives. The images are crisp, clean, intricately detailed. Many of the cards have a rather dark spirit vibe, perfect for Halloween and times when a spooky nuance is sought. Let these cards dance across your intuitive palate like the slow melting of a favorite candy. Don't rush these cards; let them speak to you in Spirit-time. With most decks I am a hard-core reversals card reader (reading upside-down tarot cards differently than upright ones); with the Ghosts & Spirits deck, appreciation of the cards in their upright position brings me to better clarity.

Wish list – I'd have loved the titles of the actual ghosts/spirits to be included somewhere on the card fronts as a reminder of their names.

My Favorite Cards:  The Magician, below. The man in this image is called "Psychopomp." Psychopomps assist those transitioning between death and the afterlife and offer comfort to both the living and the dead. His shamanistic vibe, feathers, and connection with the spirit realm feel oh-so-very-sacred. Look within the tendrils of the card and the rays of the sun and you will find many hidden spirits. His kind eyes assure both us and the spirits that all will be well.
Lisa reports that it took about one week to create each of the paintings in this deck. But because of the detail in this Magician card, he took longer.

Experience the magic of him being painted here:
If you cannot see the above video, CLICK HERE.

I also love the Page of Pentacles card, which tells the story of Jack Frost, shown below. The Page of Pentacles here represents creativity and exploration of talents, with Jack etching his creative traces upon a window.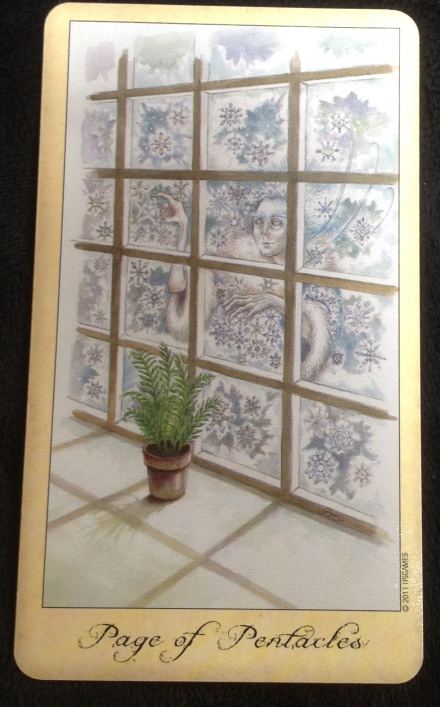 Sample Reading: I used a 2-card spread to see how these cards communicate, and I asked:
1)  What dark shadow do I have difficulty facing?

2) How can I resolve this?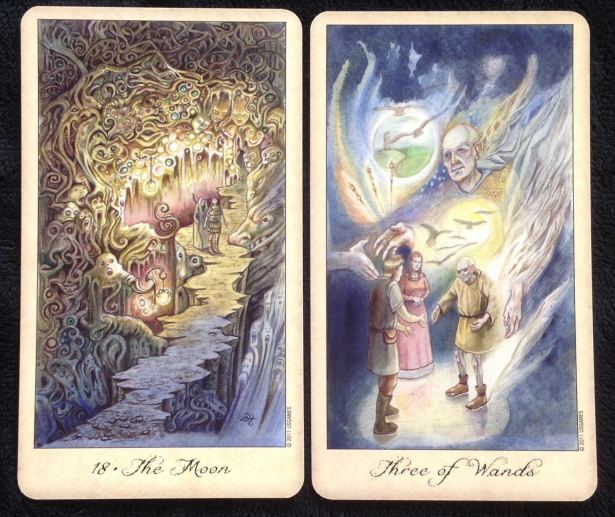 1)  What dark shadow do I have difficulty facing? THE MOON
This is the card of the underworld, of both our greatest dreams and biggest fears. Intuition must be one's guide. I see this dangerous path of the unknown, and trepidation. I especially see a fear of heights here, as there is no guard rail so it looks very dangerous. Yes, fear of heights is one thing that keeps me out of planes more than it should. The road is not a safe-looking one; one must watch one's footing. I look like I'm grabbing onto the shirt of the man who walks before me, wary of the road ahead.
2) How can I resolve this? THREE OF WANDS
I see clear light, trust, and partnership in this image. A handshake, partnership, togetherness. There appears to be support from both the Divine and the Earthly world. This card is based on an Italian fairy tale where a grateful Spirit shows his true identity and rewards a man by extending unity and cooperation. The card symbolizes karmic reward.  "Communication and cooperation with others may lead to new enterprises," the LWB says. "This can be a very productive time if you open yourself up to new ideas."  So this seems to suggest that extending an open palm back to offers will result in productive outcomes. With many birds flying in this image, it suggests to me that the partnership may result in many flights, which are safe and surrounded by light. "Trust, cooperation, and safety" speak to me in this card.

The emotions conveyed by each card support the overall meaning and tone I found in them. Even if I had not known the particular ghost story, the moods of the cards are clear and intuitively charged.
Other decks by this artist: The Shapeshifter Tarot,  Celtic Dragon Tarot (Llewellyn), Fantastical Creatures Tarot (US Games), Animals Divine Tarot, and The Fairy Tale Tarot (Llewellyn).
Summary: The Ghosts & Spirits Tarot deck is a unique, intricately painted collection of ghost folklore woven into the tapestry of tarot. An educational stroll through legends of Spirit folklore creates a shivery atmosphere of shadows and ethers. Allow yourself to truly enter each image to find the answers you seek. And be sure to look into every corner, nook, and cranny, as surprises await you behind the branches and under the water.
Bravo to Lisa for a successful deck, which is already well-loved and receiving recognition through the "Best of Tarot" awards. Be sure to bring this deck along for your next Halloween readings to really amp up the silvery moon sensation of ghostly psychic-seeing.

Find the deck creator:
Artist's Web Site: www.lisahuntart.com
Deck Web Site: www.ghostsandspiritstarot.com
Artist Facebook Page: www.facebook.com/lisahuntart
Deck Facebook Page: www.facebook.com/GhostsAndSpiritsTarot
Twitter: @LisaHuntArt
Warmly,
Donnaleigh
Learn more about the secrets of reading tarot at our award-winning educational tarot podcast.
See a listing of all show topics HERE.