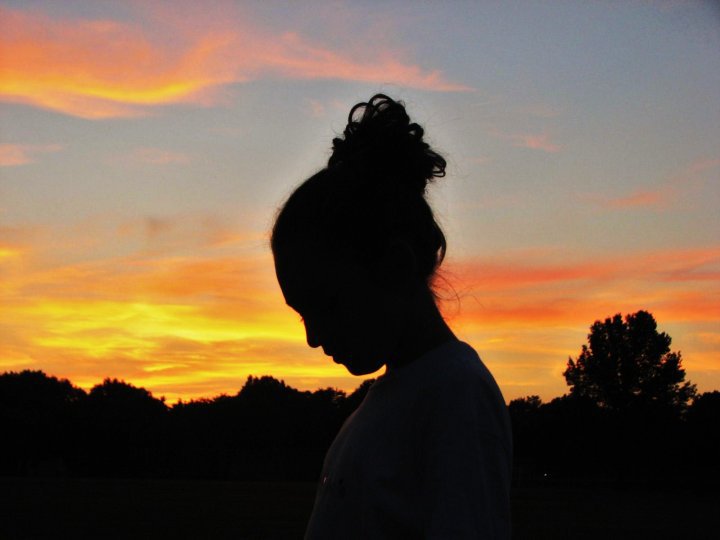 "Everyone has the answers."
Robin Wright Penn
Tarot Tip:
 Often we pull a separate card for each question we ask in a reading, and I agree that this is usually the most thorough way to read.
But I tried something this weekend:
to creatively explore how many answers
I could possibly squeeeeeeze out of a single card.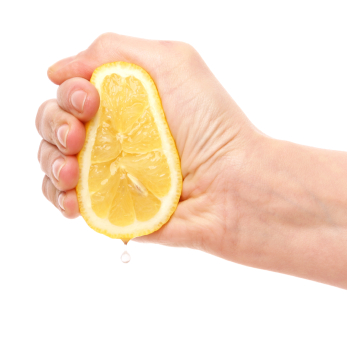 Here is the technique. 
1) Write down your questions.
2) Choose a deck with a lot of imagery in each card, even better if you are not yet familiar with the deck, as you're likely to find treasures.
3) Draw one card randomly. Keep it upright (no reversal reading necessary).

4) Ask the first question, and note what image in the card catches your  eye first. How does this apply to the answer you seek?
5) Ask the second question. What is the second thing in this same card that your eye is drawn to? How does this answer your question or discuss its energy?
DEMONSTRATION of the Technique:

This week I attended a free Tarot Global Circle, led by Christiana Gaudette of www.TarotCircle.org. (The full handout is HERE).
Christiana proves that people with all levels of tarot proficiency, from Page to Sage, can interact in a  circle quite seamlessly. She prepared questions related to Samhein to prepare after the harvest. What can be expected in the New Year that is different from this past one?

 During her teleconference we used a different card for each question, but I was experimenting on the side with my single card and found the answers very exciting and applicable. With Christiana's permission, I am using her questions here to plug into this one-card technique.

I used Emily Carding's Tarot of the Sidhe and the card I pulled was: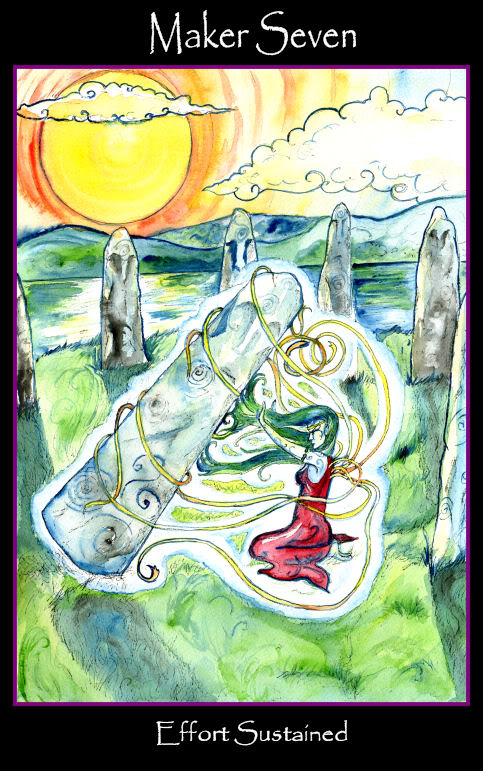 Maker Seven ~ Effort Sustained.
And here are the answers this beautiful card shared with me using Christiana's questions.

First, Christiana's questions from the workshop,
meant to be a 5-card reading:
New Year Reading
As we say goodbye to the old year, pull one card to signify what you learned in the past year.
Pull another to signify what you will be glad to release as you release this past year.
Pull a third card to signify what you can look forward to in the coming year.
Pull a fourth card to signify the lessons of the coming year.
Pull a final card to tell you what you need to do to prepare for the best year possible.

Next, The Answers I Found
Using Only One Card

Question 1:
As we say goodbye to the old year, pull a card  to signify what you learned in the past year.
What I see: Girl holding a heavy boulder.
What did I learn in the past year? I learned to hold a heavy burden, and learned that I was capable of doing it, as much as it may have flexed my spiritual muscles.  I completely wrapped myself around each of three situations and created a life direction from each.
Question 2:
What will you be glad to release as you release this past year?

What I see: She is tangled up, cords tied from her to the boulder.
I am releasing being entangled in the situations, and instead learning the rule of nonattachment. I am taking the lesson, but not the burden. I'm also releasing holding everything  up myself. There are others around me in this circle of rocks, and the weight is lighter when all participate in the journey.
Question 3:
What can you look forward to in the coming year?

What I see: Sunrise with a clear sky and fluffy clouds over rocks...
The fluffy clouds show that spirituality always trumps over our physical perception below. How we perceive them will create the atmosphere of how we entangle with them.
Looking at the sky, a new dawn is rising, with bright colors and sunny disposition. Light clouds decorate the future, something easy to manage and more fun to decipher. Like the new dawn, this is a "peaceful, easy feeling."
"I've got a peaceful, easy feeling. I know you won't let me down.
'Cause I'm already standing on the ground."
~The Eagles
Question 4:
The Lessons of the coming year.
What I see: A circle of rocks.
The circle of rocks shows me a wonderful circle of community, earthy support, and others there to help me achieve goals, whether personal or professional.
Question 5:
What do you need to do to prepare for the best year possible?

Based on what I saw from the images above, I'd summarize this answer as:

- Establish a strong family and "family of choice"
-Release ties to that which takes all my energy or power
-See the sunny sky, don't lie in the shadow of the burden
-Note the good people around you who enrich your life, and bring them into your world. Don't let them stand back and watch.
So ... one card had plenty of stories to tell!
Christiana's next circle is
Sunday, November 13, 2011 at 2:00PM EDT.
Here's wishing you a year of peaceful, easy feelings.
Warmly,

Donnaleigh