"The most beautiful thing we can experience is the mysterious.
It is the source of all true art and science."
 Albert Einstein
Last night I took a good look at the High Priestess card.
I mean, a really good, longing, look.
And wondered deeply...
What is in that scroll she holds and half-hides?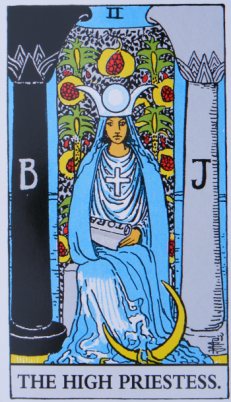 I  mean, we all talk about her holding the mysteries,
The scroll says Tora, with the "h"  missing or hidden, so it must be that sacred text of the Torah.
But if we were to  unravel it, what is inside? What would we see?
And what's inside it for us? For me? Is there anything there for us?

Today, draw one card from your favorite tarot, oracle, or angel deck and ask: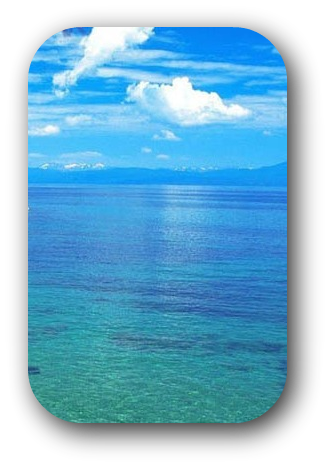 What is written on the High Priestess' scroll?
I drew a card from John Holland's beautiful Psychic Tarot Oracle deck and received: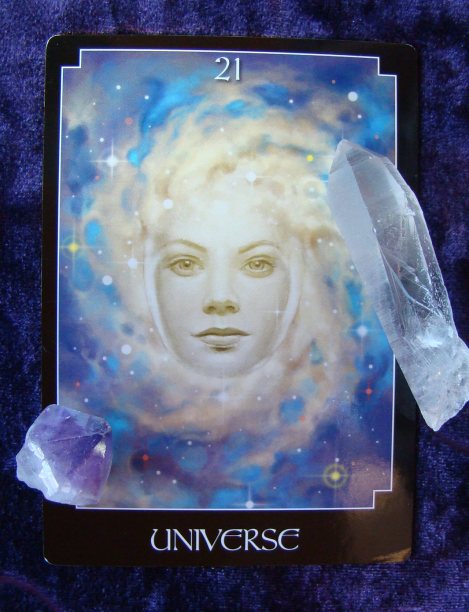 The Universe.
This card is The World Card in the traditional tarot deck (Rider Waite Smith) system, and is "all that is." It contains all the wisdom of everything that exists, everything that thinks, and everything that is both animate and inanimate. It is the physical reality and the ethers between. There is nothing that is missed in The Universe, as no other card in the deck expresses a larger or more encompassing energy.
Her scroll contains all that is.
This is reminiscent of the Biblical passage, "I am that I am."
(Exodus 3:14)
Or, as was suggested in the book, The God Code, there may be a comma missing in that passage, making it "I am that, I am." Meaning God/Spirit is that, and that, too. And oh, that as well. And that and that and that.  "I am all that is." Everything. The Universe.
Perhaps she, the High Priestess, holds the key to The God Code. After all, she is the Papesse.

I drew one more card out of sheer curiosity, asking tarot to narrow down another energy we can feel in that scroll. I received: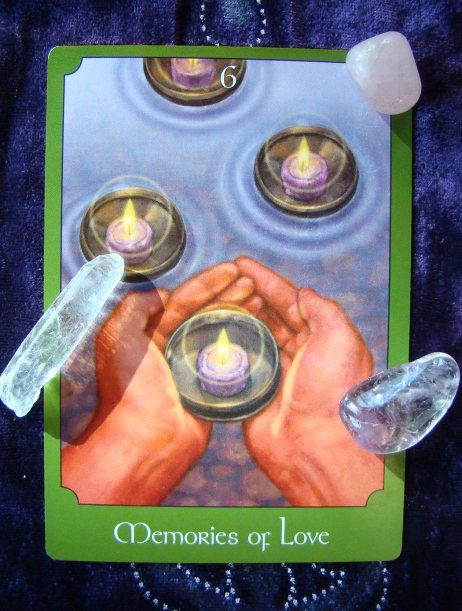 This is "Memories of Love," or the "6 of Emotions" in this deck.
This corresponds to the traditional Rider Waite Smith "6 of Cups."

I began to think of how we all have a story, memories and things we look back on that we each hold. Immeditately, the thought of "Akashic Records" came to mind, and how each of us has a story that may be written somewere, which can be viewed in 3D in a book somewhere. But this book does not only show our story, it allows us to feel our story, and to see our thoughts that could not be felt in any ordinary picture. Each moment is a snapshot of memories, of feelings, of situations that brought us to that moment.  It is much like a past-life regression: you may experience only 10 seconds of a life in a flash, but in that moment, you know your emotional state, who you're married to, whether you like the person across from you and what you feel about them, who they might be in your current life, what just happened, who you might be running from and why....and yet it is all a snapshot.
The High Priestess holds our story. She holds all that we are and all that we were.
She knows how we function and why. She holds the key to our innermost knowings.
What does your deck show her scroll holds?
If you would like more information on The Psychic Tarot Oracle,
I reviewed the deck here (bottom review).
John Holland also hosts a wonderful weekly podcast on Hayhouse Radio where he does live mediumship readings for callers and teaches about spiritual searching. John's specialty is mediumship and connecting with passed loved ones, and his style is humble, gentle, and wise. Once a month John features readings with his Psychic Tarot Oracle deck, and he has archived episodes on how to use the deck, taught by an experienced tarot reader who joins him.
To learn more about John Holland's podcast, CLICK HERE.
And I'm wishing you a tarot-filled week of Universal knowledge.
Warmly,
Donnaleigh