| | |
| --- | --- |
| Posted by Donnaleigh on January 11, 2014 at 9:40 AM | |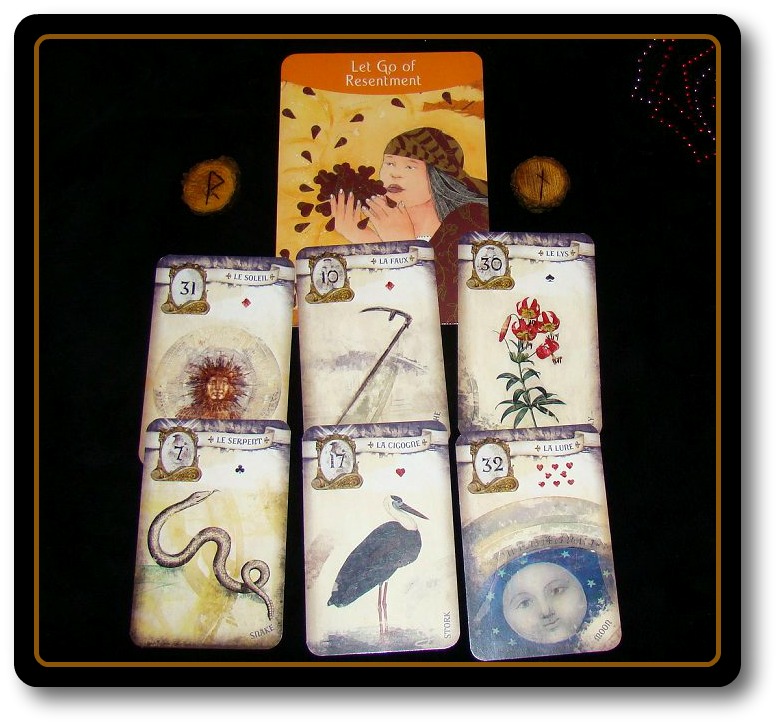 SHOWN:

INTERPRETATION:
Don't resent. Just cut what troubles dim your joy.  What you don't need, move on from quickly, and be known for a good sense of harmony. You are the great editor of your life.

HOW I ARRIVED AT THIS INTERPRETATION:
The Wisdom Healing card asks us to "Let Go of Resentment." Not only is this a card of letting go, it's a card of letting go without the influence of holding on mentally.
The Lenormand Revolution says "What troubles (Snake) dim your light (Sun), remove quickly (Scythe) and move on (Stork).  Keep a presence (Moon) of long-term harmony (Lily).
The Runes Raidho and Nied are here. Raidho is about movement, moving on. Nied is a rune of patience, but it also asks us what we "need." It's about the needs of the person who is inquiring, and it is oftenlearned through a difficult situation,

Here's wishing you a gentle release.
Warmly,

Donnaleigh