| | |
| --- | --- |
| Posted by Donnaleigh on January 5, 2014 at 4:45 PM | |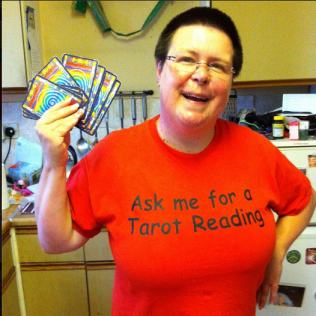 Do you have a hard time telling people you are doing tarot?
Do friends and family try to talk you out of what you love?
Let's share an experience with Nadine Bernadette Roberts, who was told by her family to stop doing tarot. Today, she is a prominent, positive presence in Tarot communities, proudly wearing her red shirt that says, "Ask me for a Tarot Reading."  So what pulled Nadine through and gave her confidence? We'll talk about her experience "coming out of the tarot closet."

or CLICK HERE.

 This is also available for free in the iTunes podcast store.
Search "Tarot Tribe Beyond Worlds."
Learn more about Nadine at her websites:
nadinetarotreiki.wordpress.com 
 Warmly,
Donnaleigh
Donnaleigh.com
See a list of all our podcasts listed HERE.