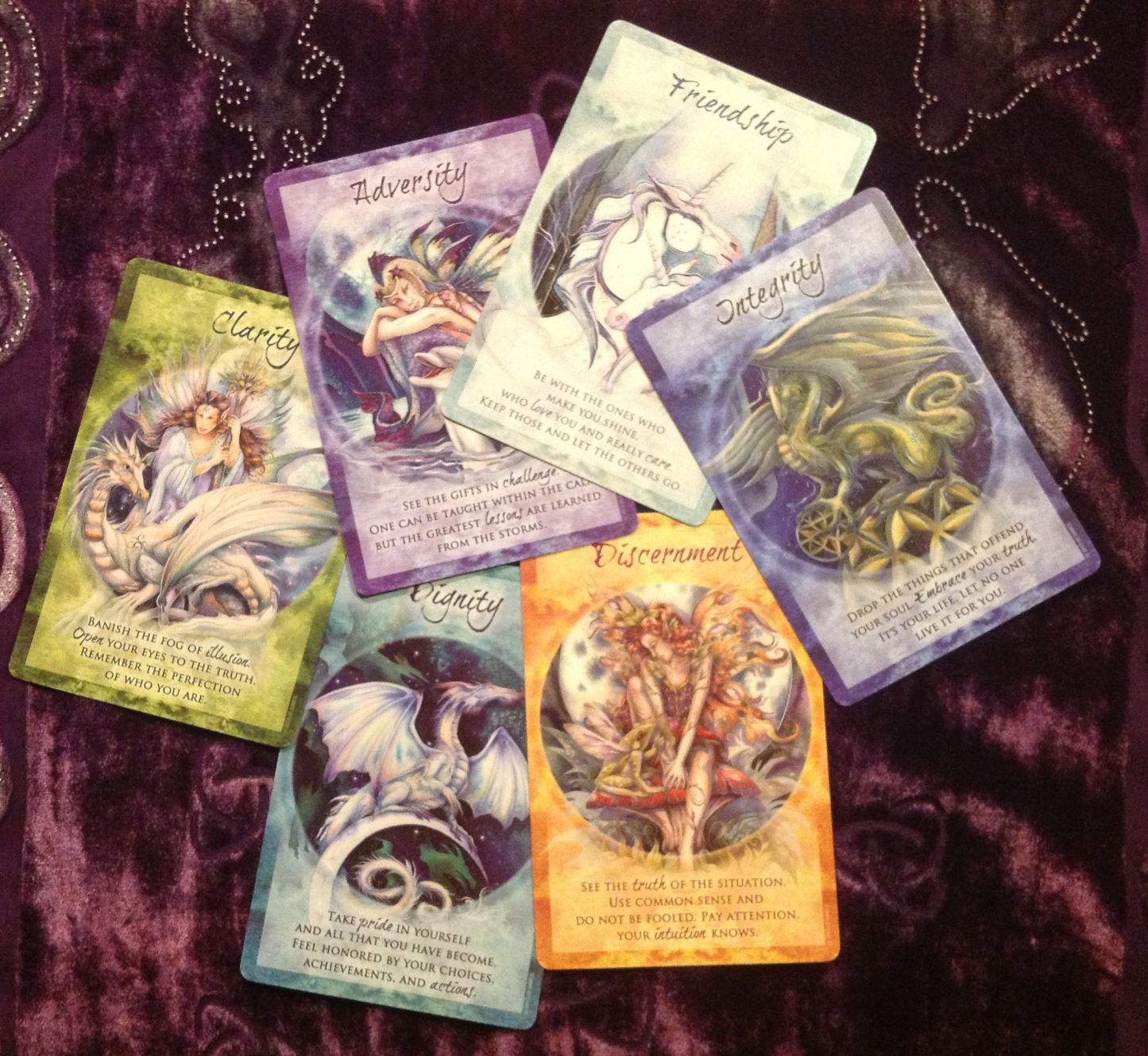 All card images are used with permission of U.S. Games Systems, Inc., Stamford, CT USA. Copyright 2013.
Further reproduction prohibited.
Welcome to the Magical Times Empowerment Cards,
a magical deck of  affirmations and dream-like fantasy images in rainbows of color.
It becomes an instant friend.

Title - Magical Times Empowerment Cards

Artist - Jody Bergsma
Jody has created thousands of paintings and inspirational sayings. She has illustrated six fantasy books, three of which she also wrote. She created the illustrations for the Spirit of the Wheel Meditation Deck published by U.S. Games Systems, Inc.  Jody offers free art instruction on her Blog and TV series at Bergsma.TV.  Learn more about the art of Jody Bergsma at her website, www.bergsma.com.

Publisher - U.S. Games Systems, Inc. Publishing Date March 31, 2013.

Style of Art -These appear to be colorful watercolors

Card stock - Normal thickness, more on the thin than thick side.

Finish - Matte
Shuffles - Shuffles easily although the cards are quite large for smaller hands. Those with smaller hands may want to shuffle hand-over-hand.

Size/readability - These cards are 5 1/4" x 3 1/2". The keyword is typed at the top of the card in Calligraphy-like font, very easy to read. The inspirational quote at the bottom is written in smaller font, but even with my not-so-great eyes I was able to read them well.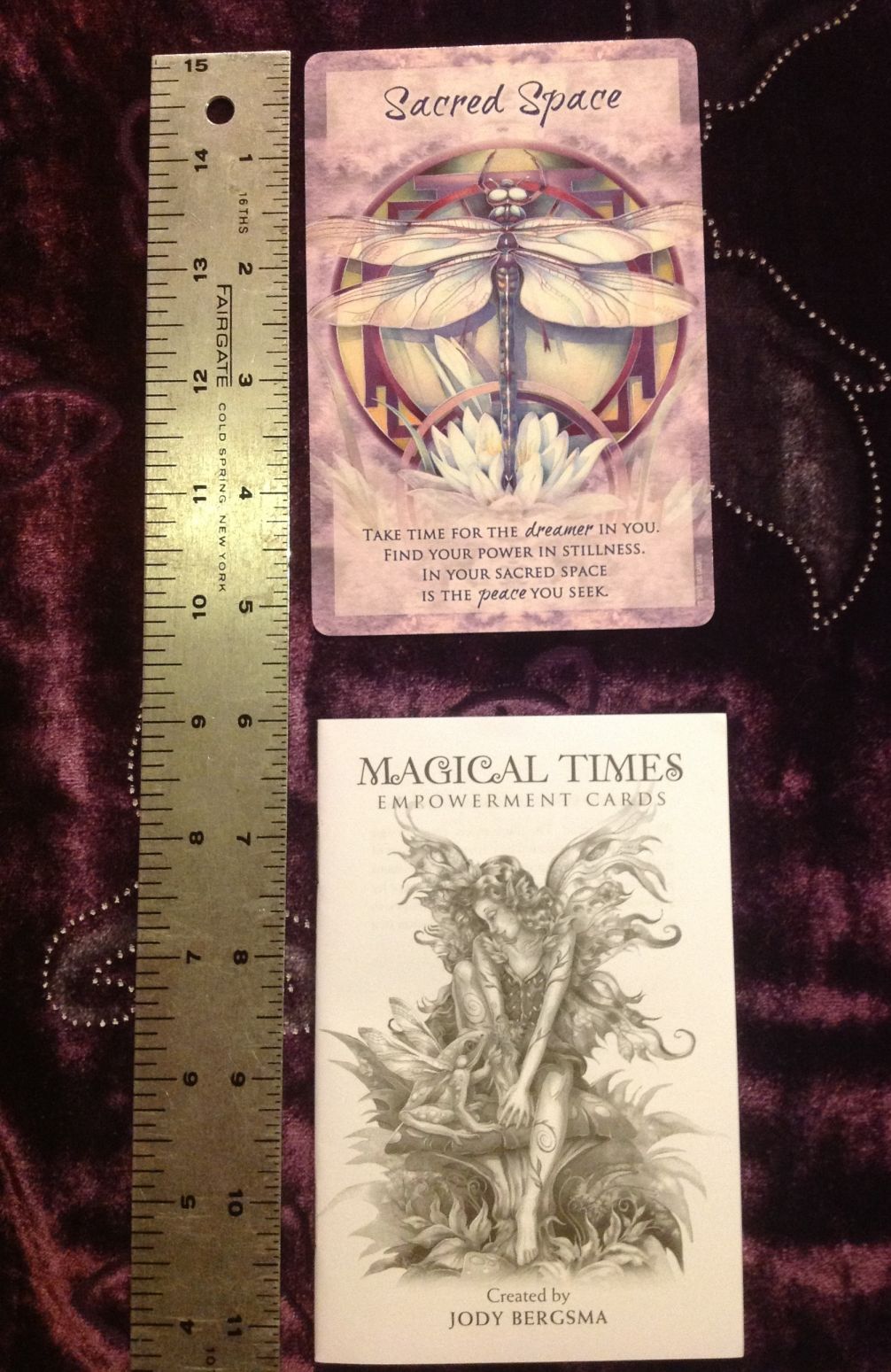 Color/Style - Stunning rainbows of colors in watercolor that has an ethereal, dreamy, flowing quality. Gentle energy flows throughout. Mythical creatures, fae, birds, unicorns, mermaids, dragons and more await you.

Backside - Linked circles in rainbow colors on a dark background. Honors reversals. (Pictured below).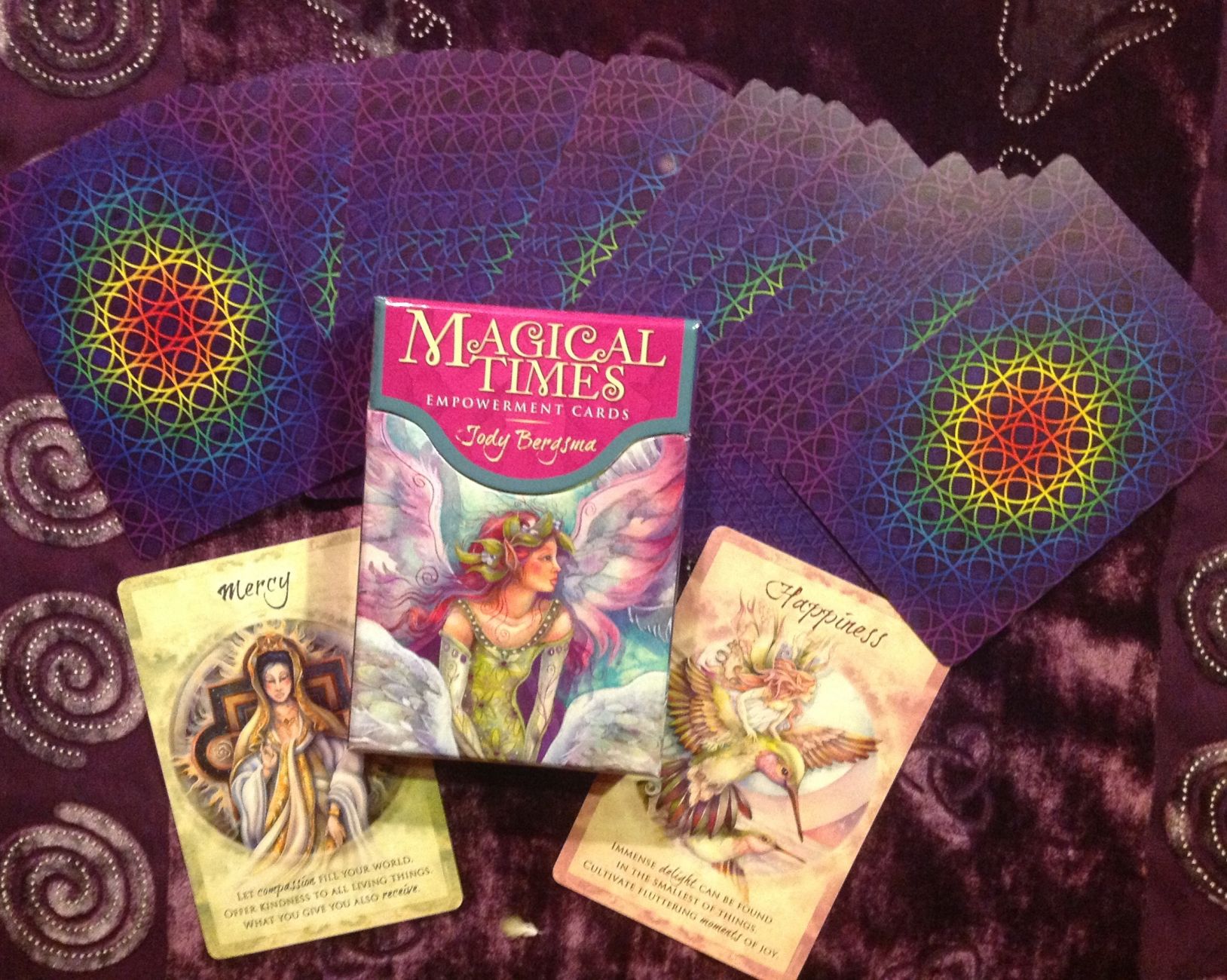 Number of cards - 44

Elements: The cards do not use suits/elements/numerology
Instruction booklet -  Little White Book, 28 pages, the same size as the deck. Includes a paragraph on each card (listed in alphabetical order of the key words, see image below). Text in the book adds to what is already written on the card as an inspirational quote. The back of the booklet includes a Single Spread Card idea, a 3-Card Empowerment Spread, and a 5-Card Elemental Influences Spread.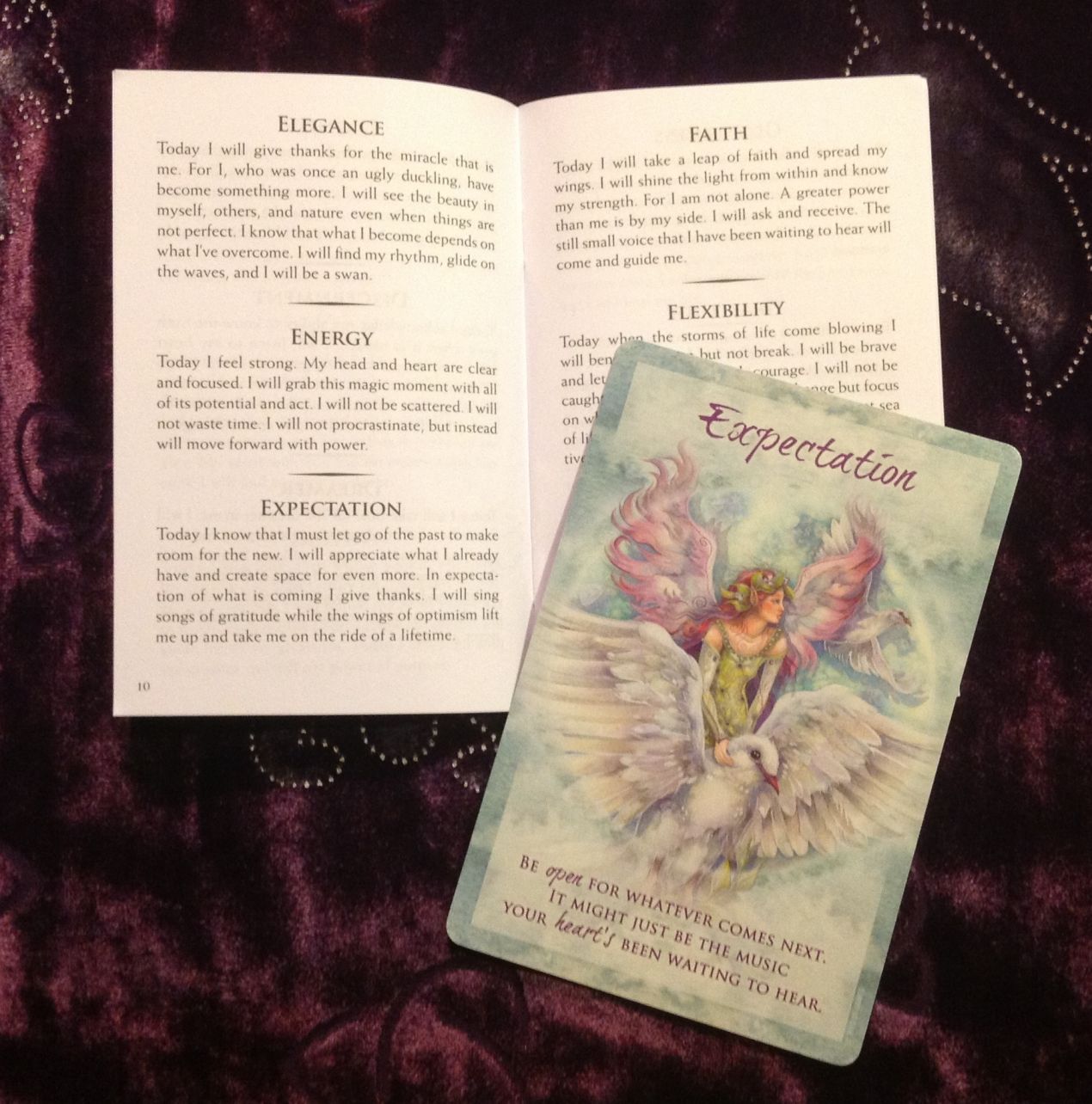 Reversals - The Instruction Booklet encourages reversals to bring even deeper meanings to readings. "Each of the cards can be read in two ways," she says. "Direct cards are right side up. The meaning is straight-forward and provides both an insight and a call to action. Reversed cards, those that you draw that are upside down, indicate an imbalance in energy."
Packaging - The box is absolutely phenomenal and worth mentioning. It is thick, rugged, and has a sturdy, hinged top that lifts (image below) in such a way that the deck can be stored vertically and opened at the top.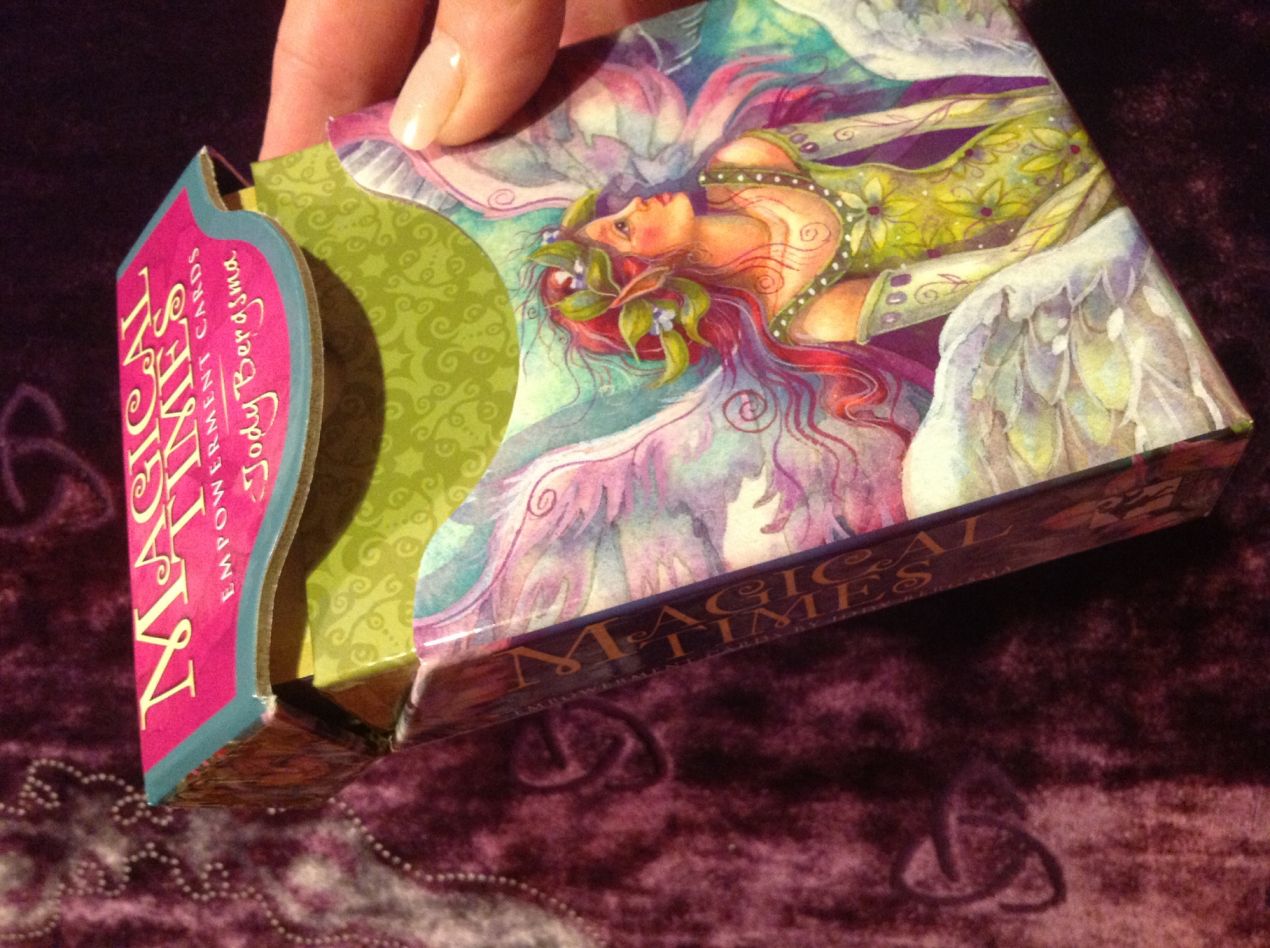 Price -  $11.04.  I find it staggering that a deck of such high quality is a mere $11.04 at the time of this review. This is a truly exceptional value. What a great gift this would make without breaking the bank!

Border: Subtle, thin, non-obtrusive border frame that matches the color theme of each of the cards. Even me, who has an anti-border preference in decks, likes these borders.

Opinion - This deck is truly inspired. Some images have a playful energy and others are truly sacred in nature. The deck resonated with me immediately, in much the same way as a much-needed affirmation sets a situation straight with positive clarity. I was surprised by the ability of this deck to hone in gently on a situation while offering guidance (sample reading is at the end of this review). I found myself very excited and in wonder as I walked through this beautiful deck, discovering the gentle images of fantasy.

Wish list/What I'd Change – You know...there is little I'd change. I suppose just slightly thicker cards would allow me to rough them up and not worry about wear. I love the matte finish on the deck. The backs do seem to be of a different color scheme than the fronts, but are lovely and reminiscent of the chakra color system. I was so emotionally touched wandering through these images and quotes that it was an inner journey that I'd not want to change. I'd like to leave this deck just as it was meant to be.

Sample Reading:
I was speaking with a friend this week about sacred space, one's personal environment, and keeping one's soul space clear. We spoke about how sometimes this means removing things that cause us upset or don't align with our energy. We spoke in particular about Facebook and the energy of needing to delete things, and yet sometimes this brings an emotional struggle: "Is it okay to delete someone who does not resonate with us, or is that unkind?"  The deck had a remarkably clear message to share: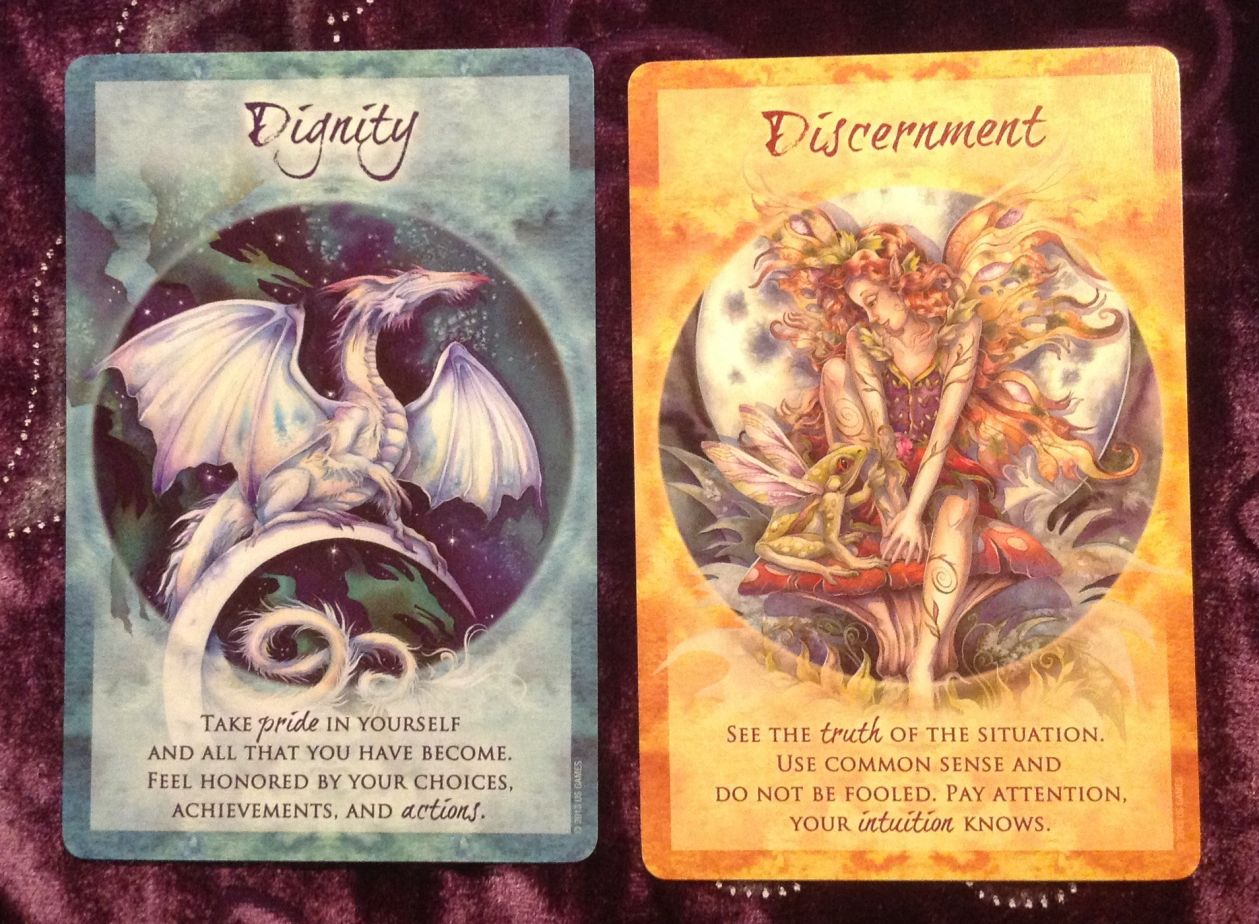 The cards titled "Dignity" and "Discernment" were my randomly drawn cards (shown above). The two cards create a clear and wise message about honoring one's own choices, and using common sense. Allow yourself to maintain dignity, do things with dignity, and be discerning. Pay attention, your inner wisdom will guide you well. And then take pride in your decisions, for you are honoring yourself with your choices. This is a beautiful message, and the images of a dragon and the frog prince in each card ("you have to kiss a lot of frogs before you meet a true prince") are additional messages one could weave into the message. The color blue and yellow could further be used as messages related to chakra energy.

Other decks by this artist: Illustrator for the Spirit of the Wheel Meditation Deck published by U.S. Games Systems, Inc.
Meet the artist in this remarkable water painting tutorial:
If you cannot see the above video, CLICK HERE.

Summary: The Magical Times Empowerment  Cards are quality cards that sweep us into a wonderful journey that bridges our outside world experience with our inner emotional self. It is a gentle deck, easy to read, rich in color and imagery, and requires no reading experience in order to jump in and begin the intuitive experience. Angels, birds, faeries, unicorns and dragons are just some of the spirits that flow through the deck images. This elegantly boxed deck would make a beautiful gift to a dear friend, including a gift to to yourself. I found myself immersed in its flowing energy right away and found it connected with my life situations immediately. I highly recommend this deck.

Warmly,
Donnaleigh
Learn more about the secrets of reading tarot at our award-winning educational tarot podcast.
See a listing of all show topics HERE.