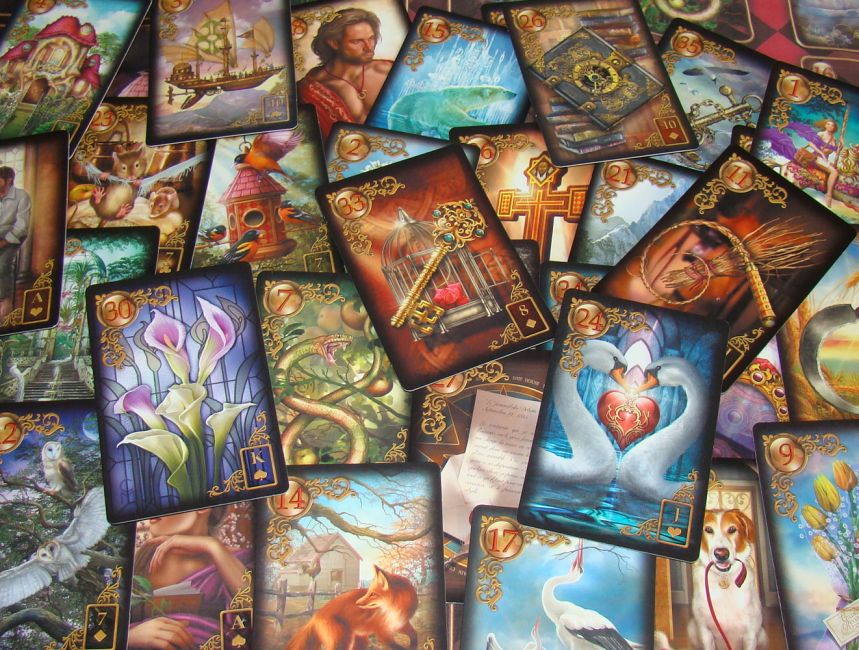 "To love beauty is to see light."
Victor Hugo
I'm proud to showcase Ciro Marchetti's Gilded Reverie Lenormand, which appears to be lit from within.
This luxurious deck comes with lots of extra perks, shown here, and brings the ultimate in quality to Lenormand readers.
The chances of two people having the same collector's deck are slim, 1 in 8.000 chance, to be more precice, as Ciro changed the colors of some of the cards, and assembled the decks randomly with the color schemes varying. There are 13 cards that come in two color variations.  For example, in some decks the Bouquet is made of yellow flowers; in other decks the flowers are red.  Sometimes it may be the overall background (i.e., The Sun, the Key), and sometimes it is just an element, (i.e. the Rider's robe, or the Bird's house, the flowers of the Bouquet, the jewels in the Ring: are they rubies or emeralds?.... and a few others). The House card's roof may be either red or purple

The Gilded Reverie deck and spreadcloth (sold separately) can be purchased at CiroMarchetti.com.
Marcus Katz adds, regarding the downloadable book that is mentioned in the video:
Tali Goodwin worked with Ciro to decide the bonus cards and she wrote the descriptions for the bonus cards from her research into variant decks of the time. Rana George also provided material for the book and card meanings, and has already come up with some nice combos for the alternate cards, such as MICE + TIME = "wasting time."

To view the video, click on the image above or CLICK HERE.
The free downoloadable book that accompanies the deck can be found at Ciro Marchetti's website HERE.

For more lessons and free podcasts on learning the Lenormand
go to Donnaleigh.com/lenormandlessons.htm
Warmly,
Donnaleigh
Learn more about the secrets of reading tarot at our award-winning educational tarot podcast.
See a listing of all show topics HERE.