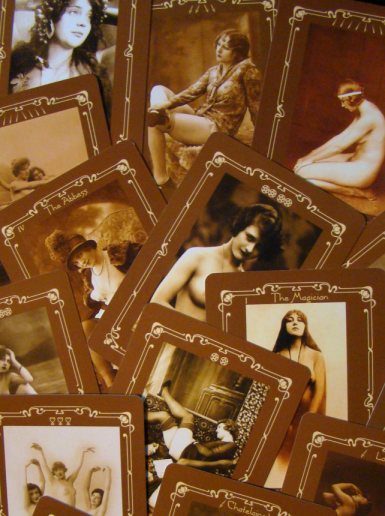 When I was asked to review The Vintage Erotica Deck, my first two reactions were:
1) I'm not into erotic decks, and
2) My website forbade the cartooned RWS tarot Lovers card from my website (full microscopic frontal nudity, I'm guessing), so I wouldn't be able to post the card photographs, but thank you anyway.
And then I took a look at the deck's website.....and fell in love. My creative wheels started to turn.

I decided with a little creative coverage with strategically-placed ribbons, I could still present the lush feel of these vintage images while keeping them rated PG. I emailed the deck creators back and said,
"I don't do a lot of reviews -- I've got to really love the deck as I spend a lot  of times on my reviews, and I typically don't do erotic decks. But I fell in love. Let's do it!"
Here is my reaction to this lovely deck that sent me back to another era,
full of sensual women who are at home with their bodies.

Title - Vintage Erotica Tarot (Le Tarot des Femmes Erotiques) 
Website: www.vintageeroticatarot.com
Authors & Publisher - Self-published in Santa Cruz, California "by the Witches at BeautyHistoryMagic.com."

Style of Art - Antique photographs in sepia; nudes or lightly-clothed women of the early 20th Century with vintage lingerie surrounded by lush antique decor.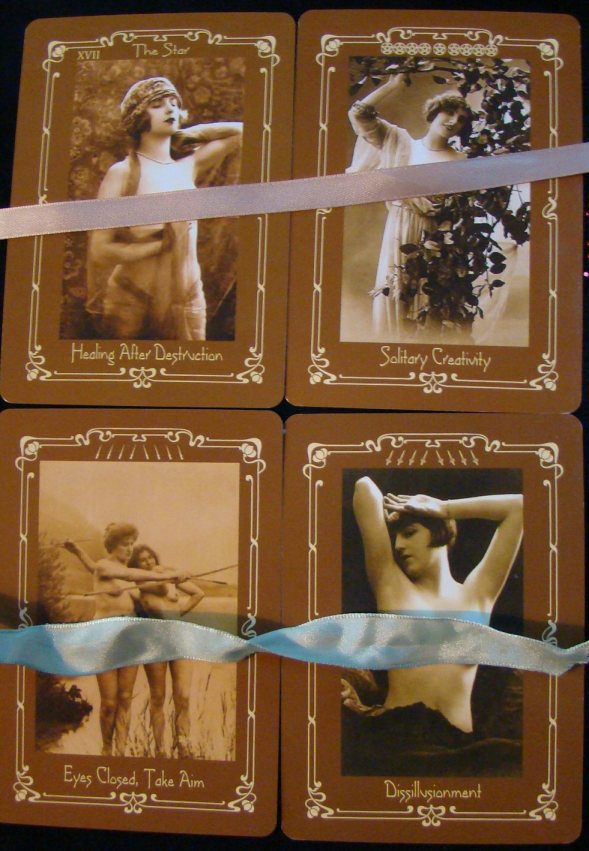 Card stock - Sturdy, thick
Card Size: 3.5-by-5 -inch cards (large cards)

Finish - Glossy

Shuffles -Large cards, sturdy, may be difficult for small hands to manage.

Card Size/readability - Images are surrounded by a lightly-embelished, wide sepia border. Images are easy to see.  Font is classy, easy to read. Identifying the suits is a bit more difficult, as they are represented by small symbols at the top of each card. The number of the suit is represented not by a number itself, but by the symbol of the suit (a row of 9 cup pictures = the 9 of Cups). Wands and Swords look somewhat similar at the small size.

Color - Sepia photographs. Non-toxic inks.  Purple backs.

Ease of shuffling - large cards may be difficult for people who have smaller hands. I found I could shuffle them end-over-end by holding either vertically or horizontally. The larger images allow for better appreciation of image detail.

Backsides - Card backs are purple with the image of a woman (the image from the deck's Magician card). The backs do not honor reversals.

Above, the card back

Number of cards - 78

Border: Wide sepia border with cream-colored trim.

Elements:Swords (air), Wands (fire), Cups (water), Pentacles (earth)
Structure: Deck is based on RWS system other than the switching of Strength and Justice; some card names have been changed (shown below), no additional cards have been added.

Card names that have been changed:

2 High Priestess = The Witch
3 Empress = The Goddess
4 Emperor = The Abbess

5 Heirophant = The Shaman
12 Hanged Man has become "The Fairy":  Change Your Perspective.A woman balancing across a footstool suspends herself playfully overthe pillows and carpets. Traditionally, this card indicates it is timeto wait for enlightenment. Sometimes that grace is given us if we justmake a move, and see things another way.
20 Judgment = Rebirth

Strength/Justice = Strength is 11, Justice is 8
Major Arcana = Fool plus 21 cards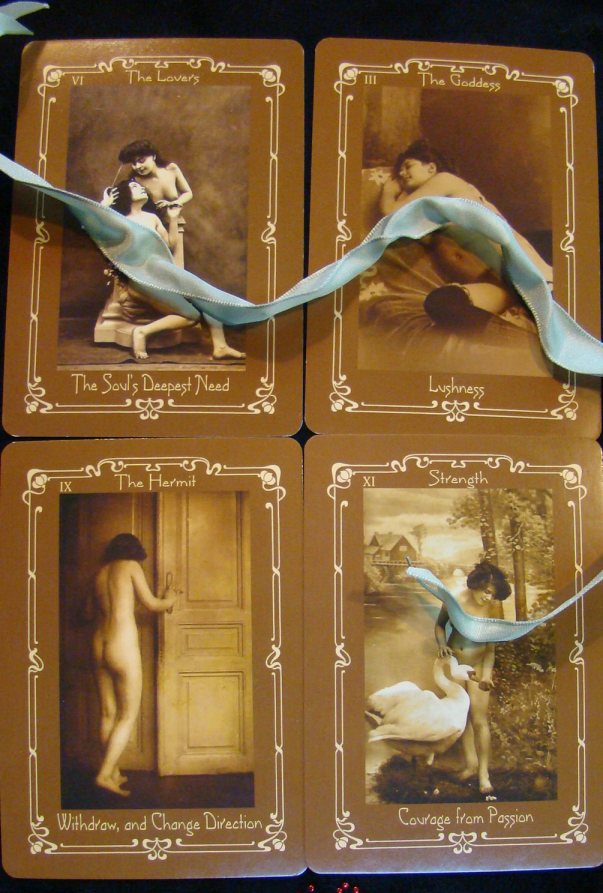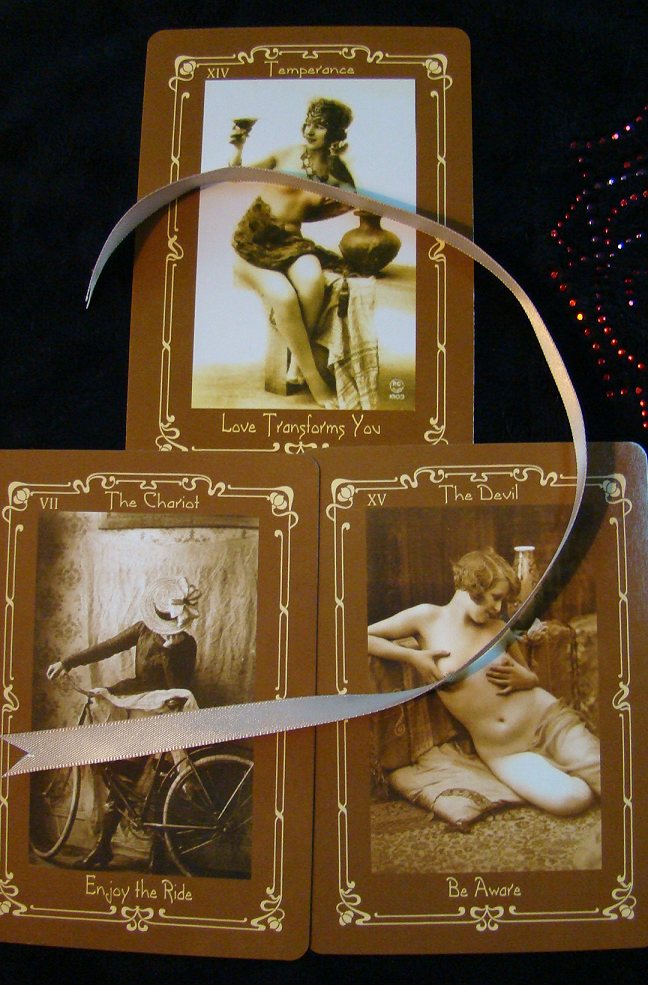 Above, several of the Majors. Please note the beautiful key words/phrases that add so much to readings with this deck.

Courts: The Court Card images are consistent with the rest of the deck; only women are featured in the courts as well. The court titles have been renamed:

Page = Novice

Knight = Lady
Queen = Chatelaine ("a mistress of a castle")

King = Queen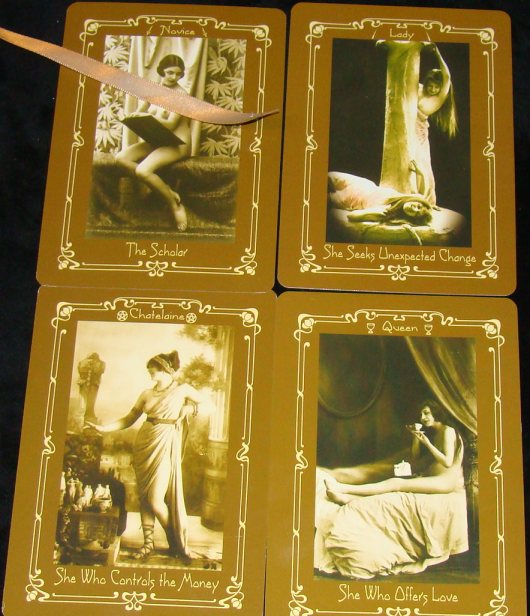 Aces -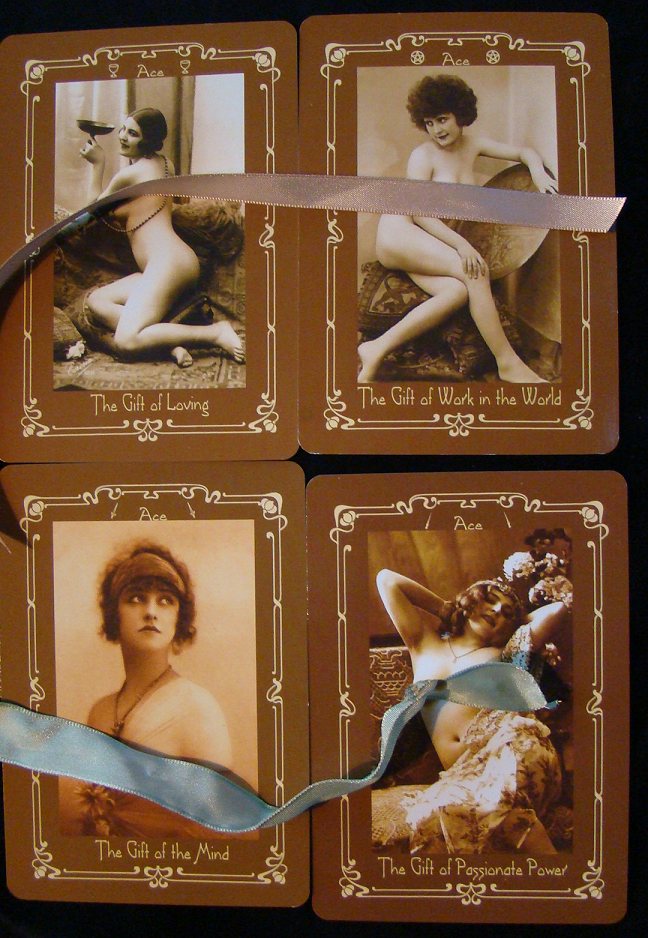 Instruction book/let -There is no instruction booklet included, but the website offers a free PDF download of the card meanings (these meanings are beautiful and should not be missed). The deck's website also gives well thought-out meanings of each card. A lot of work has been put into this  website and the card meanings. I highly recommend perusing it while you start working with the deck.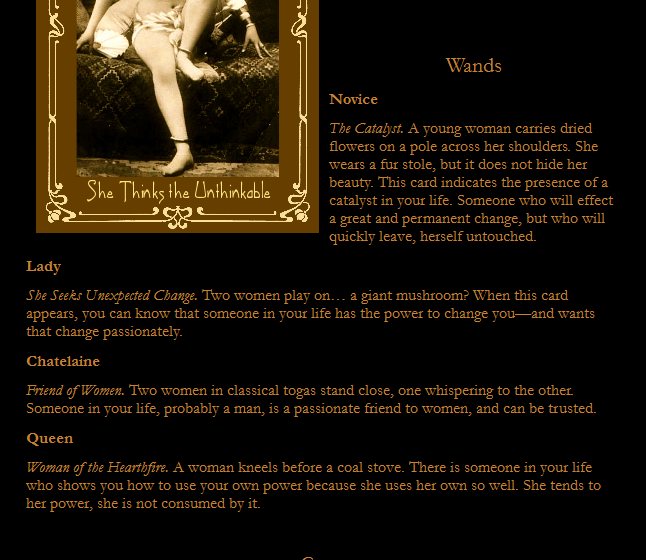 Above, sample of website meanings offered

Unique trait/s
One of the most beautiful characteristics of this deck, other than the beautiful women featured, are the brilliant keywords and key phrases chosen for every one of the cards. I found their meanings to be profoundly insightful in readings, with even more depth added when referencing the deck's added website meanings and free downloadable PDF. These meanings expanded my own appreciation of the meaning of traditional tarot cards.

Only women are featured throughout the deck
There is nudity in the deck. These are not the meticulously groomed, drastically trimmed women that seemed to emerge after the 1980's. These are women of the early 20th Century with natural bodies, "the way nature made us."
 Packaging - Very sturdy, rugged, high quality box that can be used for permanent packaging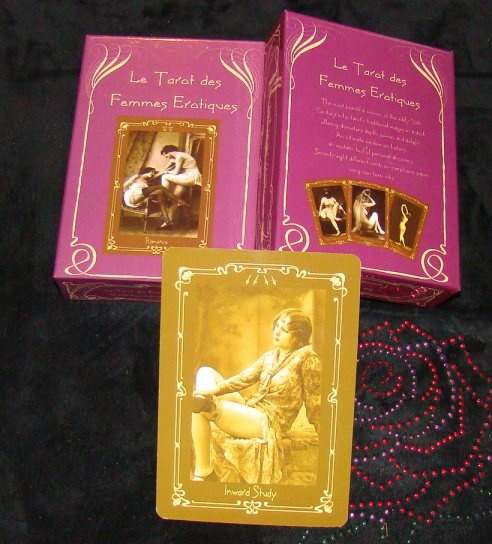 .
Above, the packaging

Price -  $34.99 with FREE Shipping in USA via Priority mail.  Available through deck creator's website at www.vintageeroticatarot.com.

Opinion -
This is a visually stunning deck with quality portraits of early 20th Century women. I am typically not a fan of erotic decks, yet I found myself drawn to this one and fell in love. I would describe the cards more sensual than sexual. Many of the images may be difficult to intuit by picture alone. However, the Keywords/Phrases and labels on the cards do make this deck easy-to-read for readers new to tarot. As an experienced reader, I found the key phrases added to my own repertoire of tarot interpretations, expanding and beautifying meanings I used for these cards. I really love this deck. This deck gives beautiful, gentle readings with a sensual, antique flair.

Wish list/What I'd Change –
I'd love to see women of more races represented. All appear to be Caucasian women
The World card was the only card in the deck that didn't appeal to me, as it seemed a bit more sexual, showing a woman's body from the waist down. Every other card in the deck is a beautiful meditation for me.

I'd love to have less border, more image

A printed Little White Book included with the deck would make for more portable interpretations (meanings provided on the website are excellent)

Sample Reading:
 So I asked the deck how it would be received by the tarot community. I pulled three cards and received:
3 of Pentacles, 7 of Pentacles, and 10 of Pentacles. ALL PENTS! This would make sense since our bodies are physical and are represented by this very tangible element.
The cards drawn are shown below: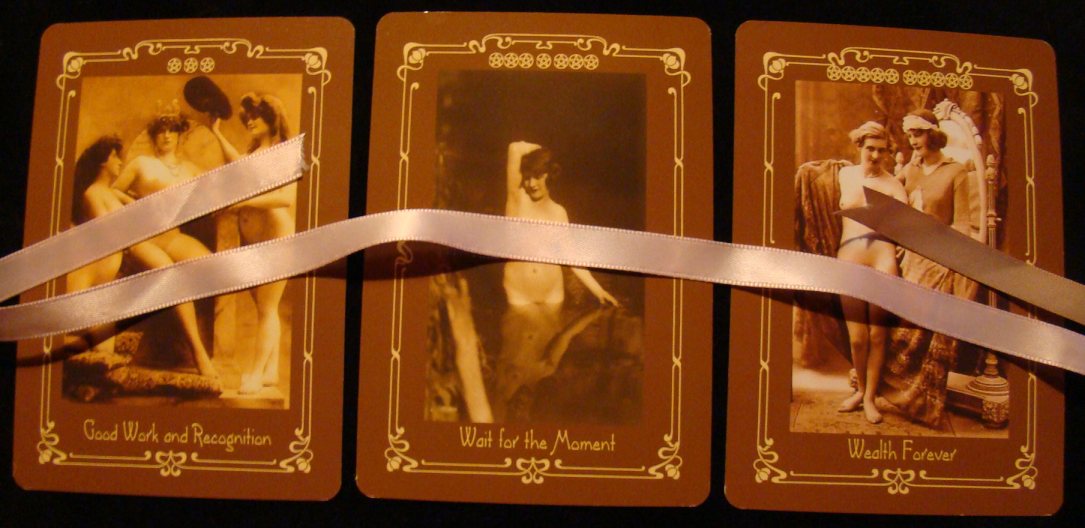 Note the key words/phrases for these cards:
Good Work and Recognition
Wait for the Moment
Wealth Forever
This deck surely will be recognized as the beautiful work of art (again, Pentacles) that it is. While it may be a process that is gradual as people find the deck and learn about it, it will lead to something that provides the ultimate in the physical and will be highly valued by those who purchase it.
3 of Pentacles is my "community working together" card, and so as the community works together by word of mouth, the ripening of this deck happens and then it becomes an item of abundance, both for the sellers as well as those who purchase it. Very auspicious cards!

Publisher's websites and contact information:
Warmly,
Donnaleigh
Learn more about the secrets of reading tarot at our award-winning educational tarot podcast.
See a listing of all show topics HERE.