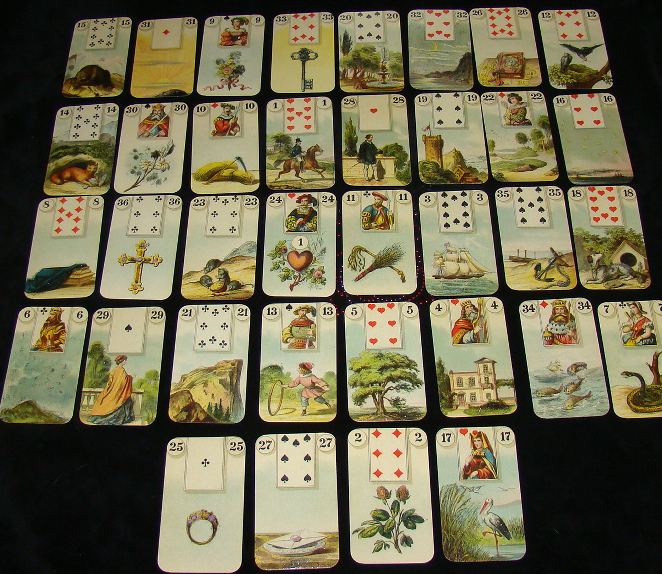 "You can teach a student a lesson for a day; but if you can teach him to learn by creating curiosity, he will continue the learning process as long as he lives."
  ~Clay P. Bedford
Above, the French Cartomancy Lenormand deck, border removed and cards glittered.

IT'S DIFFERENT THAN TAROT!
So you want to learn how to read the Lenormand Deck? If you have searched for how-to books, you may have found that it can be difficult to find resources in English.
HERE is a blog explaining some of the differences between Tarot and the Lenormand.


Below is a list to get you started on your Lenormand-learning journey. I'll update this page as resources continue to become available, and as I continue to discover them myself. Feel free to contact me with your suggestions if you've found good resources I've not listed here.
Do note that many books and resources have different card reading systems. Take what you like, leave what doesn't fit you. I tend to like to stick to the traditional system as much as possible (as I continue to learn), which is quite different than how a tarot card is read.  You need to pick what fits you.
LENORMAND STARTER TIPS:
Get a deck that has images that are easy for you to see. Traditional decks are great to start. I happen to like the French Cartomancy deck, and the Lo Scarabeo Lenormand deck, but several others like them are also great. Unlike tarot, the imagery itself does not alter the meaning of the card, except in a very few cards that may have directionality. Find one you feel is attractive and with clear imagery. Here is information on how to choose your first Lenormand deck.

Learn the individual card meanings, or get a sense of understanding them in singles before trying blending two cards. A great place to start is Helen Riding's blog where she posted a Lenormand Dictionary.

Learn 2-card combination blends -- it gets exciting here!

Then get on your journey as to how to read the cards deeper in spreads, and these resources will help you with the blends and the spreads.
FORUMS
WEBSITES:
ONLINE COURSES:
BOOKS on how to read The Lenormand

YOUTUBE:
FREE LENORMAND DECKS:
If you want to give the Lenormand a go, but you don't have any cards and aren't sure about buying, here are some decks you can download and print.

APPS:
TAROT TRIBE/BEYOND WORLDS: FREE LENORMAND HOW-TO PODCASTS
At Tarot Tribe: Beyond Worlds, we are bringing you lessons on the Lenormand to get you on your feet and beyond. Click below to access the free audio podcasts. The first two aired on May 19 and 20, 2012. Links below:

1) Beginner's Lenormand Class with Melissa Hill  -  Handout here

2)  Advanced Lenormand Class with Rana George   -  Handout here

Follow a list of more of our Free Lenormand Podcast Classes HERE.
For more information on how to read the Lenormand Oracle, CLICK HERE.

"I am learning all the time. 
The tombstone will be my diploma."

~Eartha Kitt
Here's wishing you a magical world of Lenormand discovery!
Warmly,
Donnaleigh
Learn more about the secrets of reading tarot at our award-winning educational tarot podcast.
See a listing of all show topics HERE.