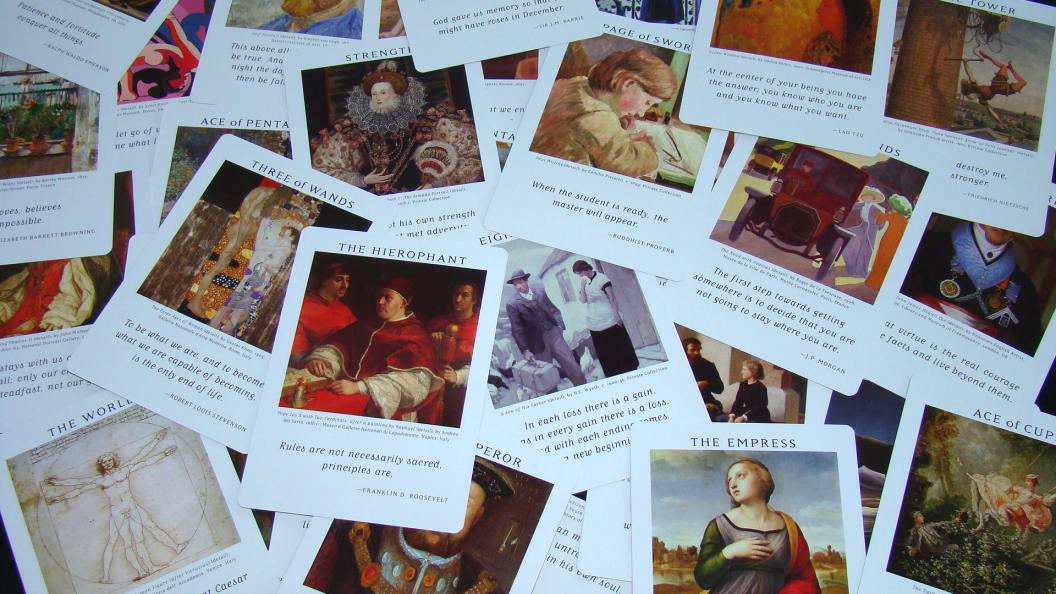 "A picture is a poem without words."
Horace Read
Description: Few decks have reduced me to near-tears, but the Art of Life Tarot Deck accomplished this with me, where I sat with the deck in my favorite rocking chair for an hour the first time I met it. I sank into the cards, their quotes, and marveled at how closely I felt they interacted with my life. I was numbed by their profound messages, sinking to the deepest parts of my very soul, with the meanings punctuated by the beautiful imagery displayed on each card.

Using classical art and quotes, the deck brings positive insight to even the most difficult cards, and therefore the most difficult facets of our lives.  This is a deck designed to be displayed within the beautiful frame the box creates when it is unfolded and uprighted into a 3-dimensional display case.

Title of Deck -Art of Life Tarot Deck
Author -by Charlene Livingston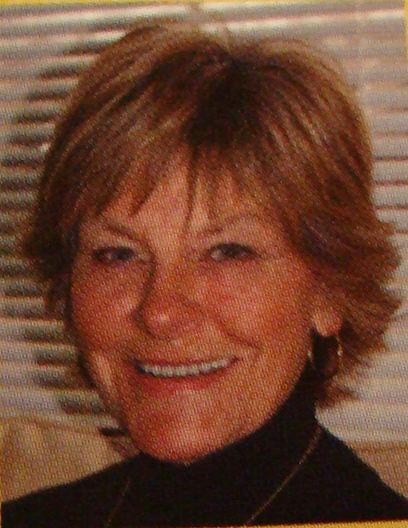 About the Author:

Charlene Livingston studied design and architecture and graduated from the University of Michigan. For 25 years she taught Visual Arts and English to gifted students in Toronto. She has also published several articles on life and relationships for the Toronto Star and Globe and Mail. She is still very much involved with the arts: she is a Gallery Guide, where she gives tours and talks at the Art Gallery of Ontario.
For years Livingston was a casual tarot card reader, using tarot as an occasional, entertaining personal hobby. That is, until in 2005, when her husband was diagnosed with Alzheimer's disease and she found herself turning to the cards more often, searching for some external source of meaning and seeking comfort through the cards. During this time, when she felt lost and helpless, she turned to the tarot for insight and searched for answers.
Livingston realized through a surprising dream about the Knight of Wands that she could find inspiration from her background in art history and her lifelong passion for quotations to create something. Through her knowledge and passion she found she could capture the essence of the meanings behind each cards, while simultaneously encouraging the reader to interpret their own personal meanings. 
Livinsgton's goal with this deck? To provide others with a means to help themselves through an interactive tool when they felt uncertain or lost, searching for direction or answers. Most importantly, Livingston writes, she wanted to empower the reader.  Each card is to bring a sense of strength, possibility and optimism.
And even in the most difficult cards, Livingston accomplishes this goal.

Publisher -U.S. Games Systems, Inc.
Deck includes: 78 cards, 31 page Little White Book, gorgeous, thick display box that unfolds to create a stand-up display. The stand-up box features with a slip-in frame within which the cards are meant to be displayed.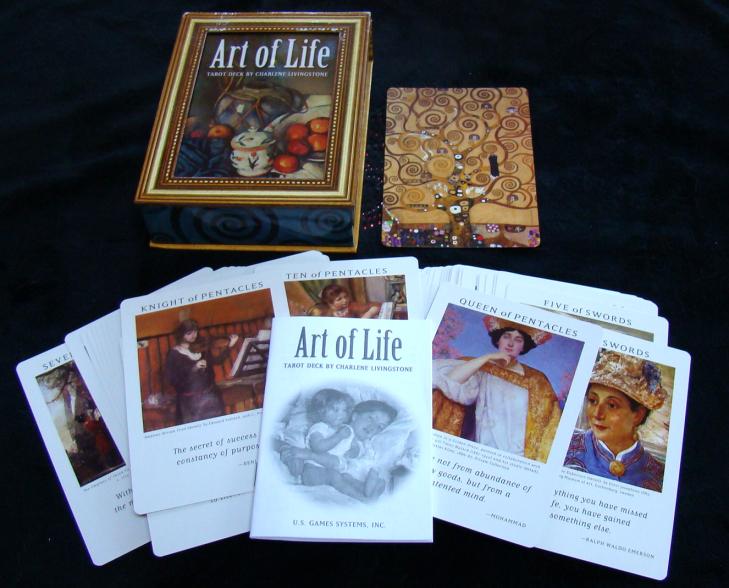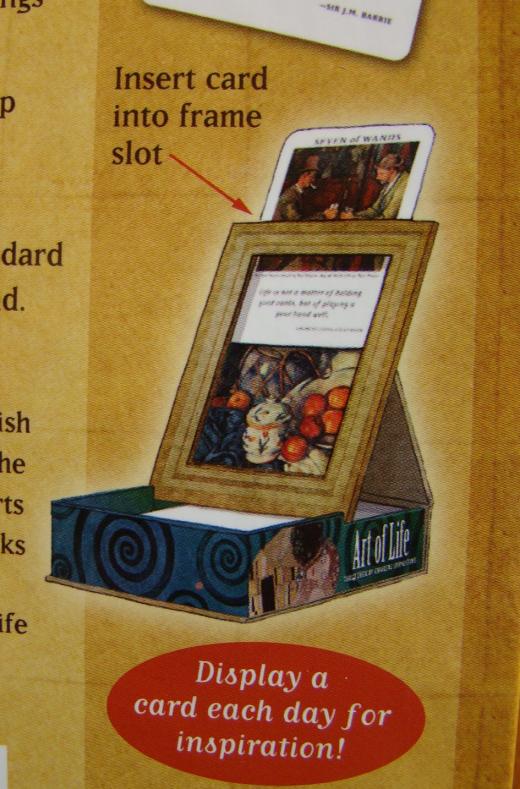 Style of Art -Classic Art from the Masters
Card stock - Good cards stock. Not thick, easy to shuffle, can fold or bend if pushed. May bend over long-term use due to larger size of cards.

Finish - Matte
Size/Readability: Cards are 3 1/2 x 5 1/2 inches (large). Font is medium to small. Easy to read. Each illustration includes a tiny font under the illustration crediting its artist/source. Illustrations themselves (within the cards) are a little less than 3" x 3".

Shuffles -Easily, although the cards are large and may be difficult to handle when shuffling for those with small hands.

Color -Full, rich color with white background.

Backside -The Tree of Life (detail) by Gustav Klimt; 1909. Does not honor reversals.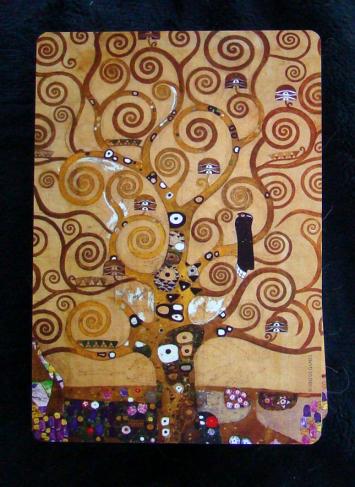 Number of cards -78
Elements: Wands, Swords Cups, Pentacles

Strength/Justice = Strength is 8, Justice is 11
Tarot System used: Rider Waite system. Though the illustrations may appear to stray, the quotes explain and bring us back to familiar meanings in most cases (others described below),

Major Arcana = Fool plus 21 cards, traditional titles/names based on RWS system, no additional cards. Major Arcana cards are not differentiated visually or via different fonts/colors from the minors. Majors are not numbered, though they are clearly titled with the Major name (i.e., Magician, Chariot).

Courts: Page, Knight Queen, King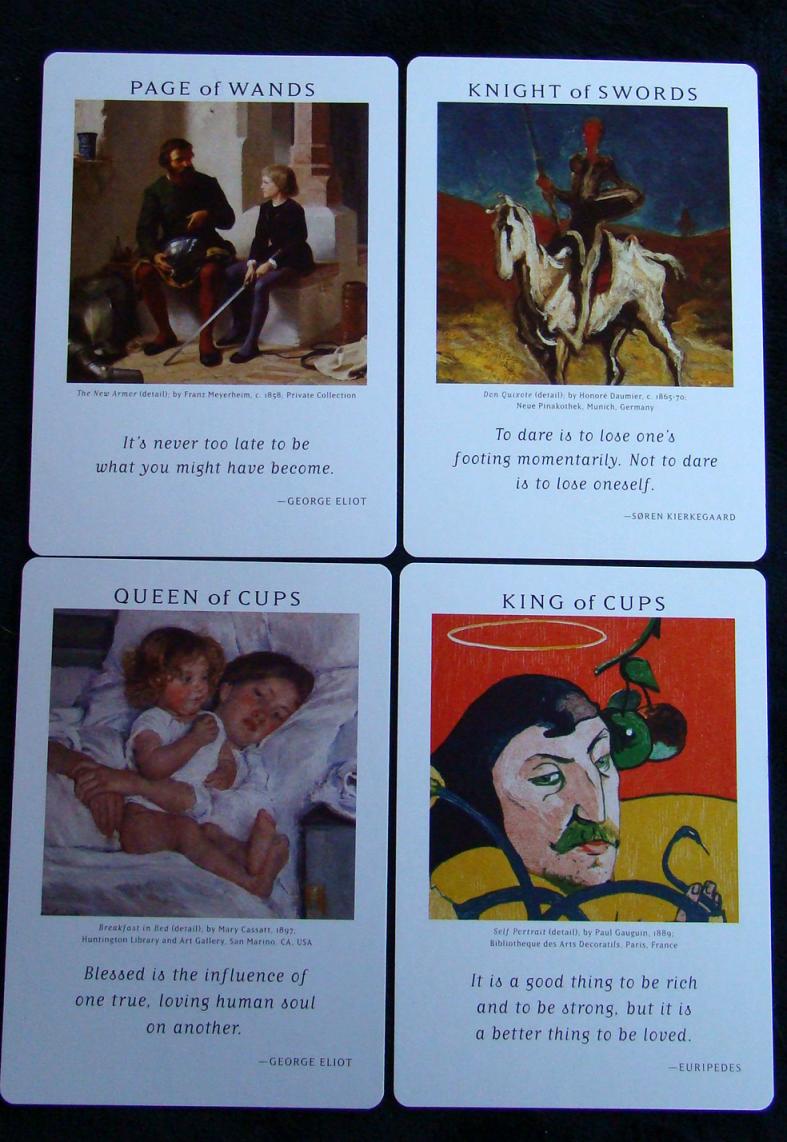 Aces - Depicted as full works of art, similar to the rest of the deck (full illustrations with quotes).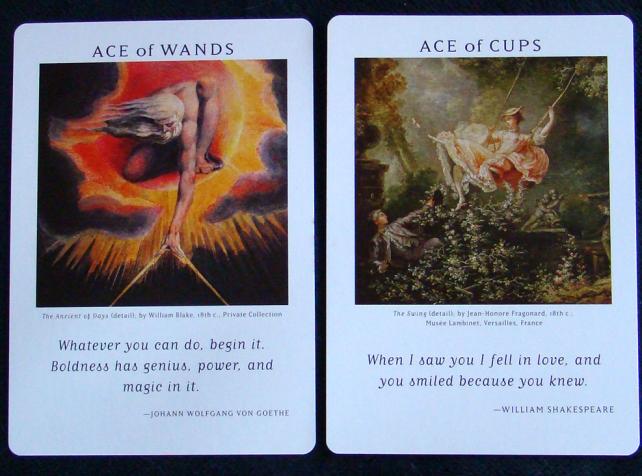 Instruction booklet - Little White Book, 31 pages, dimensions 4 3/4 x 3 1/4", stapled.
Brief meanings of each card included; suits, structure, and courts of deck briefly explained.
5-Card Creativity Spread offered at the end, with a sample reading offered.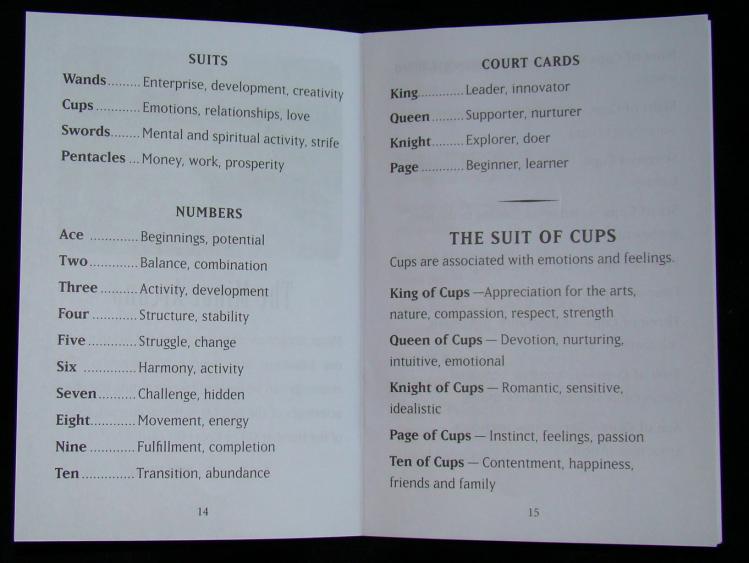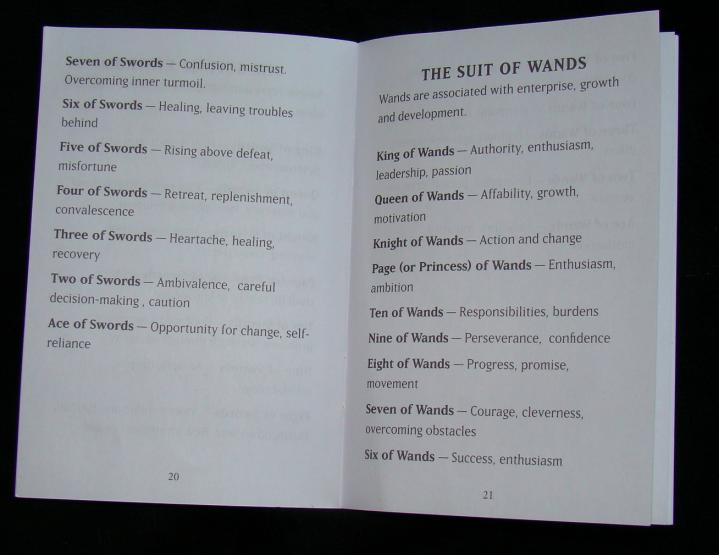 Unique traits -
1) Quotes are included on each card, making each card journey a powerful, personal, positive experience (even the "difficult" cards, as you'll see, below).
2) Display box is gorgeous, allowing the cards to be slipped within the stand-up frame in order to become a daily focus, meditation, or home decoration. This display is beautiful enough to be displayed in even the most elite of homes.
3) The card meanings/quotes focus on self. So the difficult cards (as well as the positive ones) create self-insight instead of other-blame. A very positive energy runs through these cards.

Packaging -
Stunning packaging, which is one of the deck's primary perks. Below, see the Chariot card placed into the upright frame the box creates. There is a plastic sheath in the frame that serves to give gloss and protection to the card below.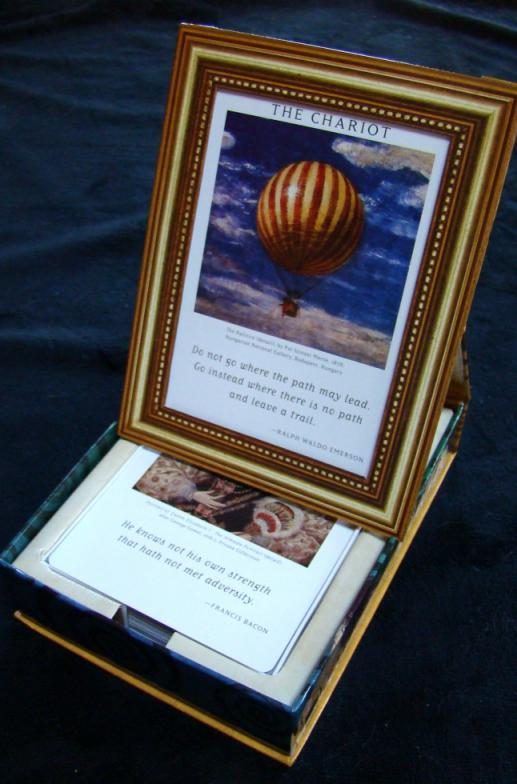 Expected Release Date: May 1, 2012. Available for pre-order at The Tarot Garden HERE.

Price - Suggested retail price is $21.95, price may vary depending on source

Where to purchase: The deck will be distributed through the usual wholesalers and new age retailers and online book/deck resources, and is also expected to be distributed to bookstores and museum gift shops.
Font size/style - Delicate, medium font.  Quotes are in italics below each painting.

Border: Large white border

Opinion - Few decks can admit to reducing me to the powrful, deep emotional state to which this deck brought me. The beauty, the meanings, the personal insight and positive messages of hope, all brought this deck to a new level of beauty and importance. This is a deck I'd be proud to gift even to someone who had no interest in the tarot itself, as it is a remarkable tool for positive self-growth and an item of aesthetic beauty. No knowledge of tarot whatsoever is necessary to swim in its currents. Uses of this deck can include traditional readings (although reversals may be a challenge to those who enjoy reading them), as well as daily meditations, journaling, or just the display of a beautiful image and quote in the home for focus and beauty. This is truly one of the most meaningful decks I've met to date, completely non-threatening, positive, classy, luxurious, and with great depth of meaning.

Difficult Cards:  The difficult, or typically hard-edged cards, are the ones that make this deck such a stand-out experience. Livingston has brought out the strength and positive nature and insight that each of these difficult energies bring as gifts to our lives.  Each is focused on self-growth and insight rather than on negative blame on others or situations. Four examples are below: Tower, 9 of Swords, Devil, and Death.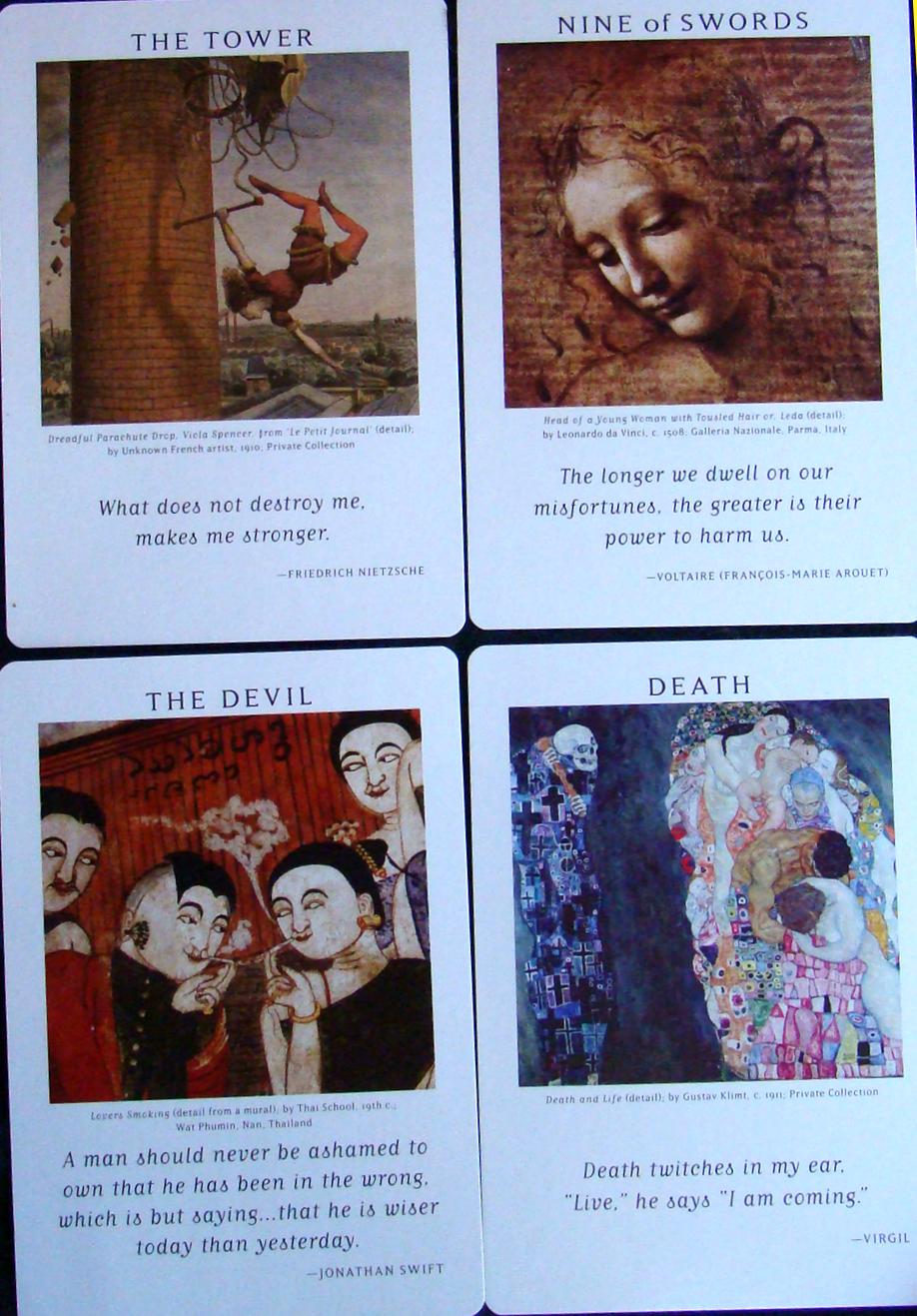 Meanings That Deviate: A few of the illustrations may at first glance appear to stray from the typical Rider Waite system. Most are explained by the quote, which then support the illustration Livingston has chosen for the card. Examples are below.
The 8 of Swords, typically showing a woman bound and blindfolded within a cage of swords, shows a ship riding the waves of the ocean. But the quote explains the breaking-free energy of releasing ties of self-sabotage and binding: "You can never cross the ocean unless you have the courage to lose sight of the shore." Ah, so the ship's freedom is perfect.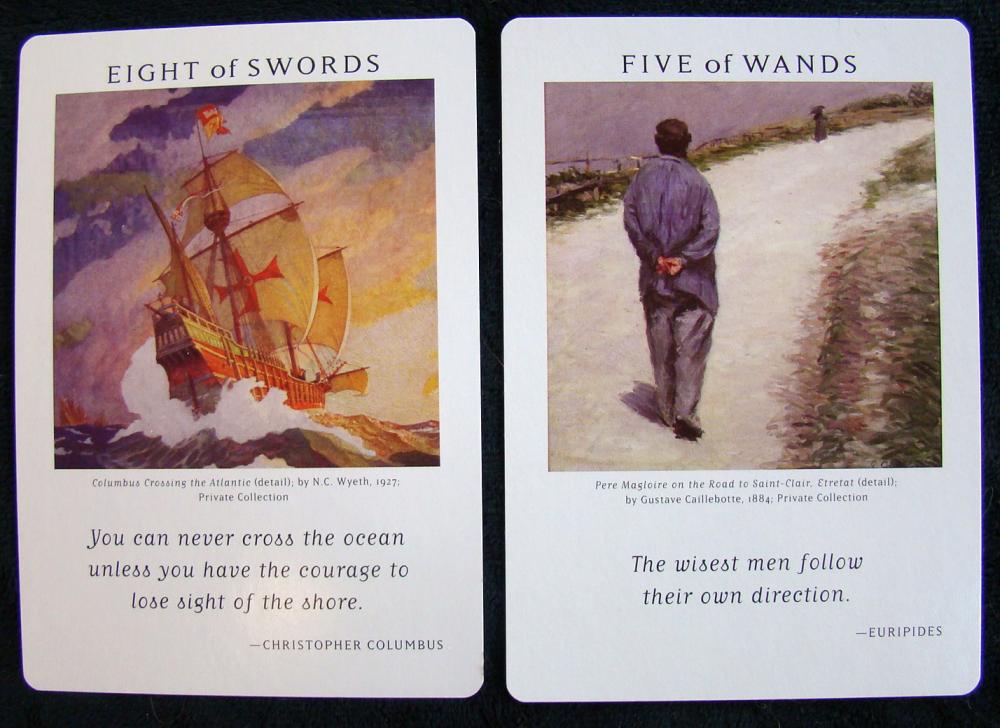 In the 5 of Wands, we are used to seeing five sparring individuals bantering or arguing, using the wands as weapons. Instead, Livingston chose the quote, "The wisest men follow their own direction," starting with the core of "strife" or "discord" or "arguments," and finding the answer by going one's own way without care of the opinions or challenges of others. Thus, the man walking his own path. Brilliant.

Additional examples are provided below, although these cards tended to stray more from my traditional meanings. Whereas I often see the 4 of Cups (below) as apathy, boredom, or indecision, Livingston finds it to mean beauty in -- and learning the dance of -- change.
The 8 of Wands (below) typically means for me communication, speed, hitting the mark, repetition or movement. Livingston finds the motion in the card, but focuses more on the flux or change of the energy.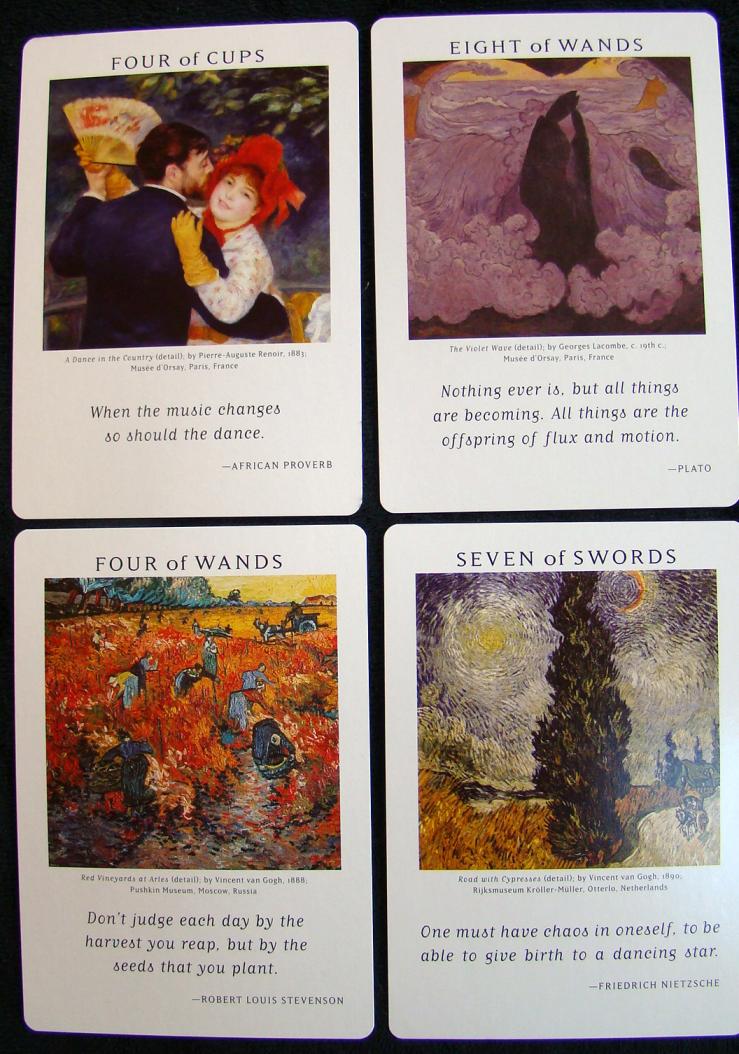 Likewise in the 4 of Wands above, my typical card of "home, graduation, ritual, happy family," appears to be more related to judging a day by what seeds we've planted for our future rather than in the day's accomplishment.
The 7 of Swords (above) impressed me greatly with its twist of meaning. Rather than blaming another for taking, cheating, swindling, or betraying, her card assures us that the chaos allows us to give birth to our dancing star. Beautiful. We can stop the self-effacing, harmful self-bashing for having been duped, and realize that we've gathered something new from what we've learned.

Favorite cards: (Pictured below). I realized quite with surprise that my favorite cards are the ones I prefer not to like in most other decks. The beauty of this deck is that the hard ones bring us to a place hope, that we're okay. I found that my favorites were the ones that took me out of the darkness and changed my world to light. My favorite cards are below. While I did choose beautiful images & quotes that went with the positive cards (Queen of Cups, 9 of Cups), I surprised myself for having chosen cards such as the 9 of Swords, 5 of Cups, and Hierophant as favorites, cards I usually wish not to draw in my readings.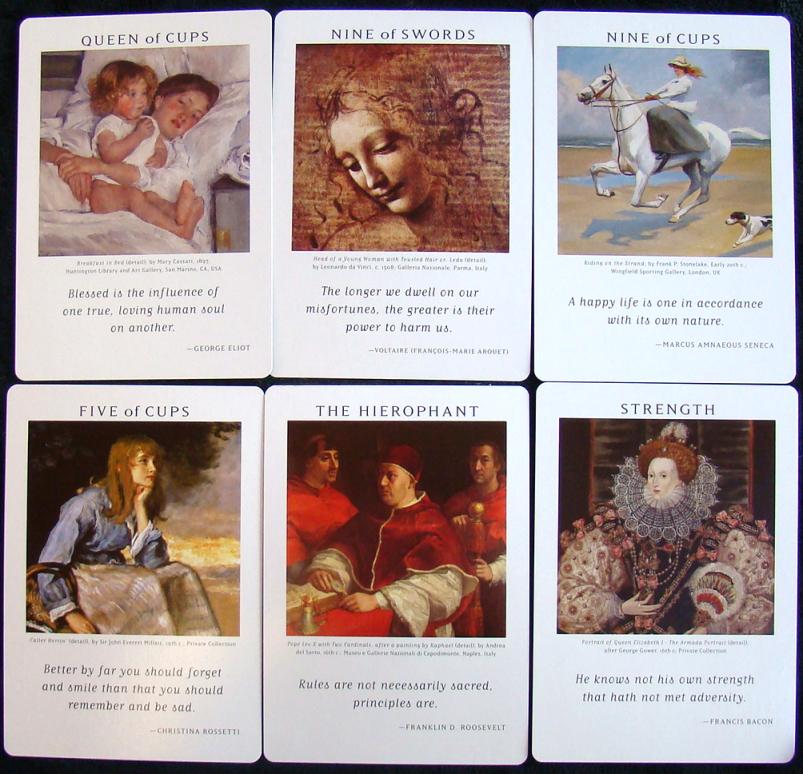 Most meaningful to me was the Strength card, which I chose as a favorite not so much for the image, but for its explanation for why my "Strength year" last year was such a bust, full of chaos and strife. The quote brought me back home: "He knows not his own strength that hath not met adversity."  Amen.

Wish List/What I'd Change – if I had my druthers, I'd have removed the border to increase the size of the gorgeous images and increased the size of the font to see from further away. Numbers on the Major Arcana cards would be helpful to new readers learning the system of Tarot. I'd have loved just slightly thicker card stock due to the larger size of the cards, to protect them for the long-term. I want this deck to last forever. I want it to be an heirloom.

Sample Reading:
I asked the card to tell us "what it would bring to us that differs from what other tarot decks offer?". Its answer is below.  Interestingly, it chose 3 Major Arcana cards, so expect BIG shifts and insights of the most profound kind.
The three random cards that arrived were: Justice, Judgment, and Hermit. Put into a sentence, the titles alone would suggest: "Enlightenment and improvement .... though the responsibility of life's balance  ....  sought/found through time alone and solitary contemplation." But look deeper into the card meanings via the quotes: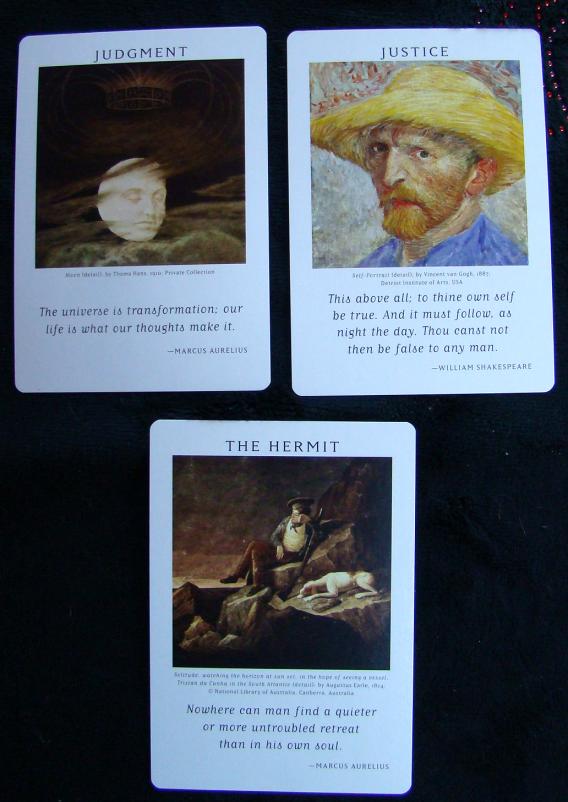 It shape-shifts our thoughts to redefine our universe. Be true to yourself, and the deck will bring you confidence in being your best "you," as you cannot be false to your life or to others by honoring your genuine, honest self (and this deck supports our personal authenticity rather than what the world would like to make of us). Thirdly, honor both the quiet satisfaction as well as the troubles within you, for they both will take you to the authenticity of yourself through understanding those emotions and experiences.

 Summary: You have just met one of the most insightful decks of our generation. You need not know a sliver of tarot to benefit from the cards, and yet experienced readers will appreciate the cards even more depth with the added esoteric and traditional meanings of the cards. This will make a proud display in even the most sophisticated of homes, with positive energy flowing through even the most difficult cards of the deck. This deck is one not to be missed. It would make a perfect gift for someone you love who is going through a very difficult time and is looking for hope and meaning.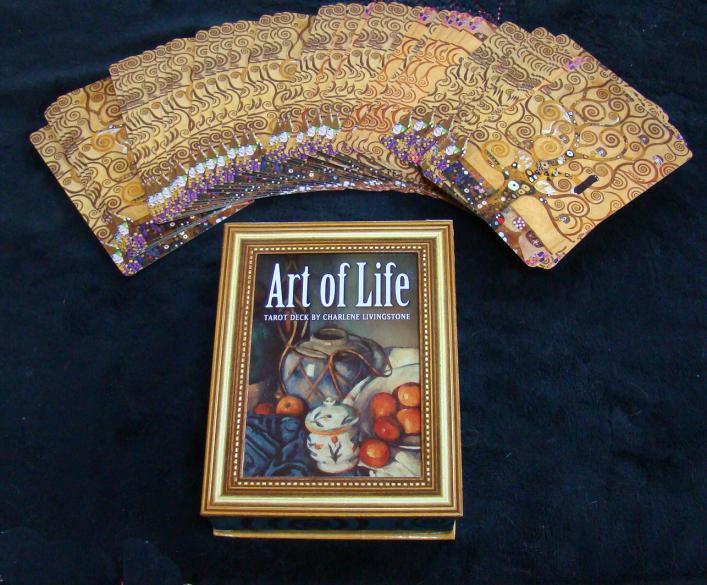 Warmly,
Donnaleigh
Learn more about the secrets of reading tarot at our award-winning educational tarot podcast.
See a listing of all show topics HERE.