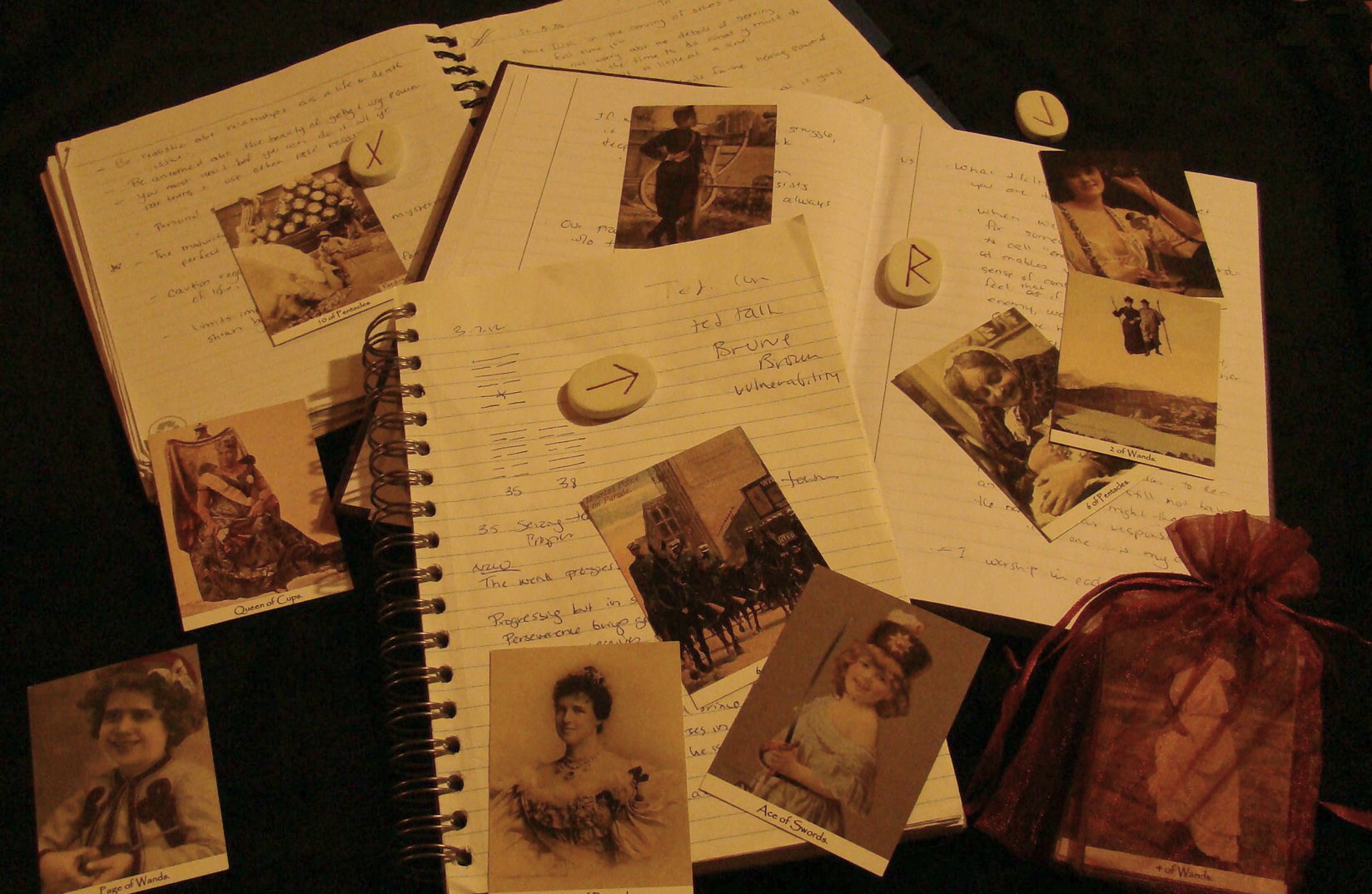 "There is nothing to writing.
All you do is sit down at a typewriter and bleed."
Ernest Hemingway
The Tarot Deck pictured above is the Picture Postcard Tarot, 2nd ed., by Marcia McCord

Do you journal?
Do you keep a diary? A tarot journal?
Do you doodle, birth any personal poetry or sink into written meditations?

Do you spend a few moments with yourself each day (or at least each week) and go within?
My Journals

I've enjoyed keeping a tarot journal for several years now. That journal expands through multiple notebooks, not placed in any particular order whatsoever.
A mere 99 cent notebook can take you to the center of your soul, that deep place where you meet yourself, where you create light, dig for the shadows, and search for something in the depths of self.
Tarot and oracles are often a means for spurring the start of a journaling exercise, which for me serves as a deep meditative journey that both heals and clarifies. Whether it be a tarot spread for personal insight, the iChing (an ideal journaling medium), oracle cards or runes, the process of writing does more than just allow the physical function of looking and thinking. Writing allows the information to sink in, become slower and deeper, to stick better to the depths of the mind, allowing the process to sink into your psyche.
Meditative Focus

The brain can only think of one thing at a time. The challenge of "Monkey Mind" is a frustrating intrusion for many meditators. Monkey Mind is when multiple thoughts seem to intrude on a meditation, distracting the meditator. By writing, you are creating a focal point, that one central thought around which your mind will wrap. Since the mind can only think of one thing at a time, with the pen, you've found yourself a Monkey-Mind vaporizer.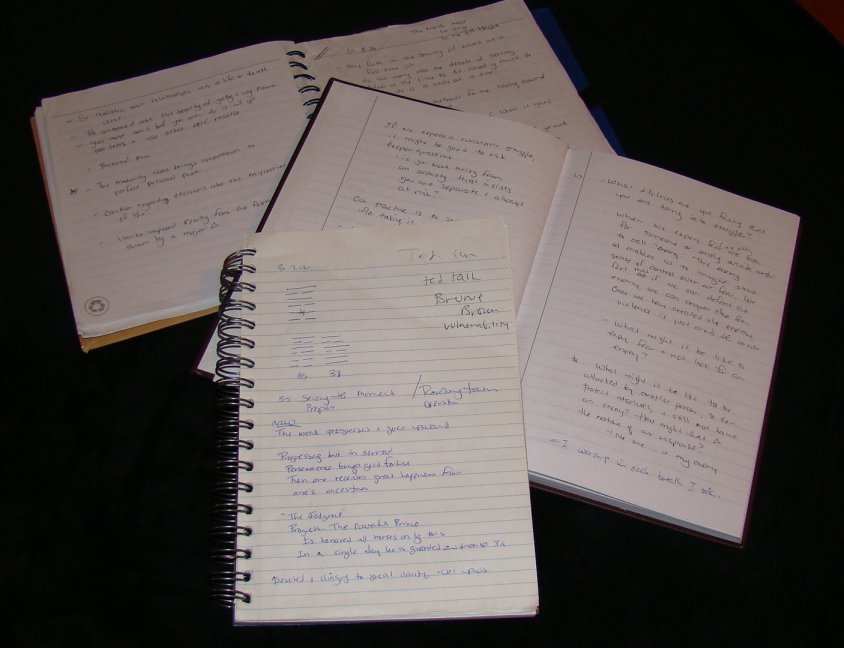 Special Journals
Last year was a particularly hard year for me. My emotions were in a tizzy as parts of my life shattered and I came to grips with  multiple crashing energies that surrounded me, those hurricanes we find ourselves flailing helplessly in.
My sister was sensitive to this. She had only recently experienced my journaling as I described to her what I did, how I put self-readings and poems and doodles and questions to myself into this 99 cent notebook. Some of the things she read touched her and surprised her.
She came to me quite by surprise one day about a week or two later, a carefully wrapped gift in her hand. "I bought you a little something. I saw this and knew it was you."
When I opened it, I was struck by the beauty of a buttery leather journal, hand made and hand sewn with leather strips around the edging, with a proud turquoise stone at the center.  As I opened it, the sweet smell of leather wafted up, and I was surprised to see hand-pressed paper greet me with all its floral seed grains and perfect imperfections.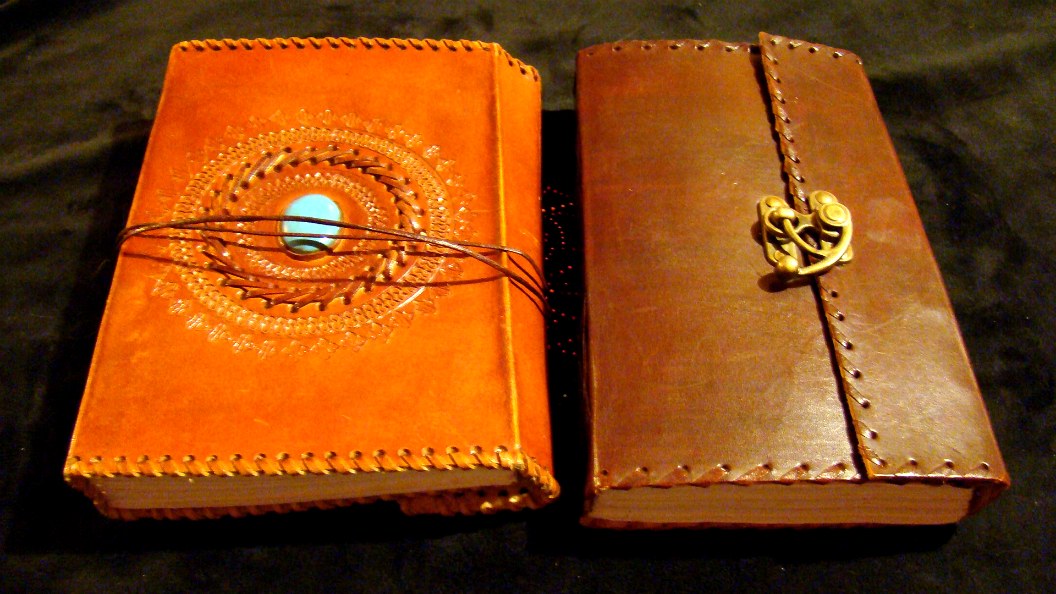 This was one of the most sacred of gifts. She had just given me the treasure of a soul search. I had so much emotional trauma at the time that I filled the entire journal to the brim while on a week's vacation in the mountains. In the process, I also discovered Qi Gong and the Tao, which brought me deeper.
After filling the beautiful leather-bound journal, I would occasionally treat myself to new ones here and there, finding something beautiful that would make my personal writing moments sacred and special.
Where?
I've written by candle, sun, campfire, and by moonlight.
I've had tea, breakfast, and an evening bowl of cereal with me.
I've written on the beach, and in a camper on a rainy day, in the mountains and in my favorite rocking chair.

I rarely re-read what I've written.
It seems the deep meditation of writing itself brings me the answers I need for that day.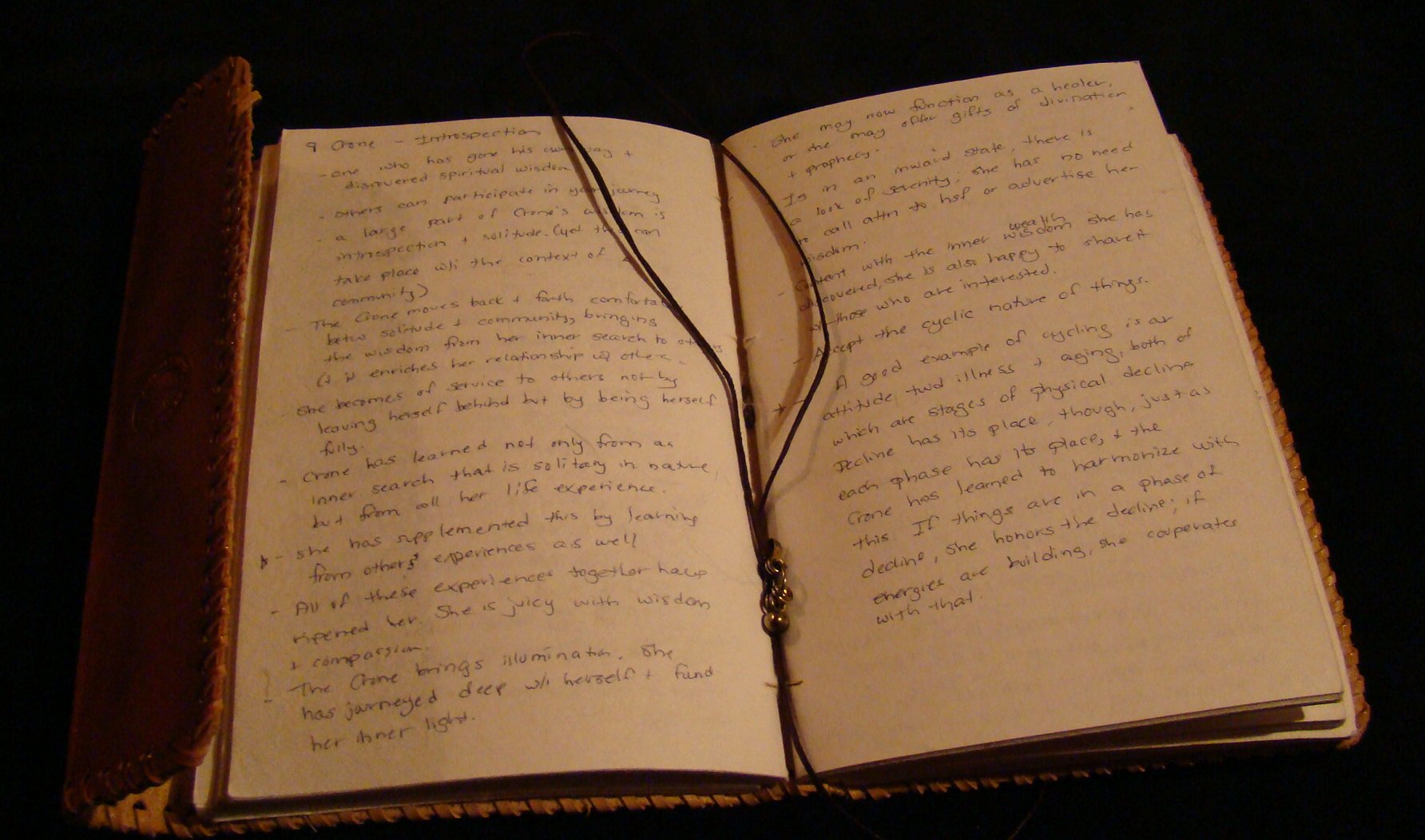 Do you?
Do you have a journal?
Do you spend a few moments with yourself each day, or at least each week?
Have you gone on a soul journey within, the sacred search for self?
What is your journal like?
Do you re-read them later?
Do you save them?
What benefits have you found?
What do you use for a journal?
About what do you write?
"I have never started a poem yet whose end I knew.
Writing a poem is discovering."
Robert Frost
Here's wishing you a wonderful week of written worldly wisdom.
Warmly,
Donnaleigh
Learn more about the secrets of reading tarot at our award-winning educational tarot podcast.
See a listing of all show topics HERE.