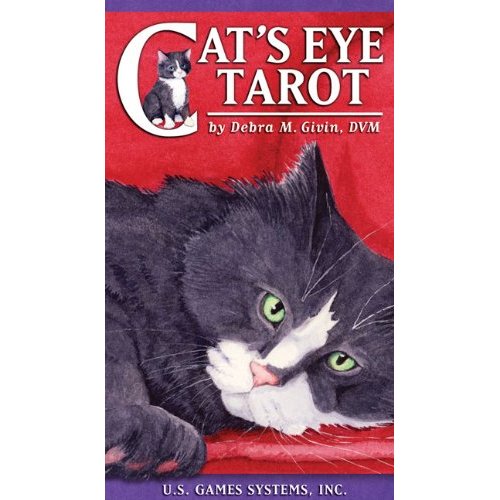 "As anyone who has ever been around a cat for any length of time well knows, cats have enormous patience with the limitations of the human kind."
Cleveland Amory
 The Cat's Eye Tarot by Debra M. Givin.
Published by: U.S. Games Systems, Inc.
I decided to try a new type of review format,
one I wish existed but I've never seen.
It's something that's easy to skim through, yet all the information you need is there, with plenty of pictures to lean on.

I hope you find this format helpful.
Description: The Cat's Eye Tarot is a traditionally structured, 78 card tarot deck with realistic paintings of cats behaving like real cats. This deck represents life from a feline point of view.
Deck Style art - Lifelike watercolors, rich colors, much realism but not photo-realistic. Captures the expressions, body language, and personalities of multiple kinds of cats. A great deck for animal lovers. A wonderful art deck, gentle imagery.

Card stock - traditional card stock, feels durable

Size- 2 3/4" x 4 3/4"  Pictures are easy to see.

 Border - Plain white, thin, unobtrusive

Card Backs - A beautiful cat face, readers can tell  if cards are reversed. A pleasure to look at when the cards are on the table.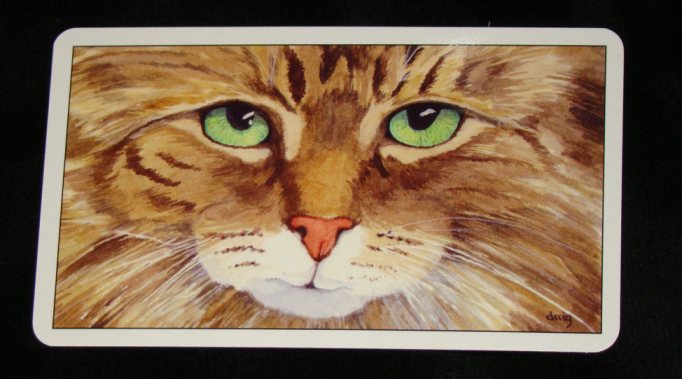 Finish  - glossy, slippery
Ease of shuffling - shuffles easily like  a typical deck of cards. Normal stock flexibility, appear durable.

Number of cards =78 cards; traditional deck structure

Theme (RWS/Thoth/Marseilles) = Rider Waite. Strength = 8, Justice = 11

Packaging - thin cardboard box, not sturdy.  Box may wear.
Price - Very inexpensive, reasonably priced at $12.24 on the date this review was published. Check price HERE.
Font = large font, easy to read
Wish list / What I'd Change–  I'd love a larger deck option. This is such an artistic deck, I'd enjoy seeing even more of the details. Some may prefer a back where reversals can't be determined from the card backs. I'm happy with this stunning image on the back, myself.
Unique traits:   Deck creator, Dr. Debra Givin, is licensed veterinarian who  has been in practice for 28 years. She clearly knows the subtle body language of cats. These are not cartooned cats in clothes. These are quality, realistic paintings of cats in day-to-day experiences, with each card a picture worth being framed. People who are owned by cats will chuckle at the tarot card relationships, which are deftly conveyed with lively humor.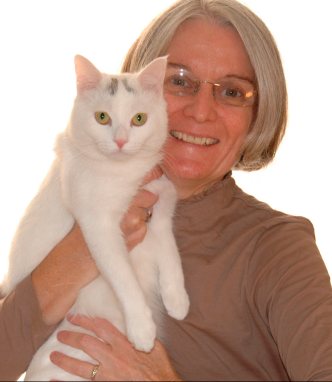 Deck Creator, Debra M. Givin, DVM

Elements -- Swords, Pentacles, Cups, Wands -- are each cleverly represented by a different color of cat, as shown below. Color is uses to convey suit energy in the card backgrounds

           Swords are seal-point Siamese/Himalayan cats. The background colors are blue (air, clarity, intellectual energy).

            Pentacles are dark (grayish) tabby cats. Backgrounds are in hues of brown and green (earthy, practical, natural).

            Wands are orange cats.  Backgrounds have shades of orange (creative energy)

            Cups are cats with black and white markings. Backgrounds contain red hues (emotional energy).

           Major Arcana cards have purple hues, denoting important events and spiritual matters. Cats are a variety of colors in the Majors. Scroll to the end of this review to view several Major Arcana pictures from this deck.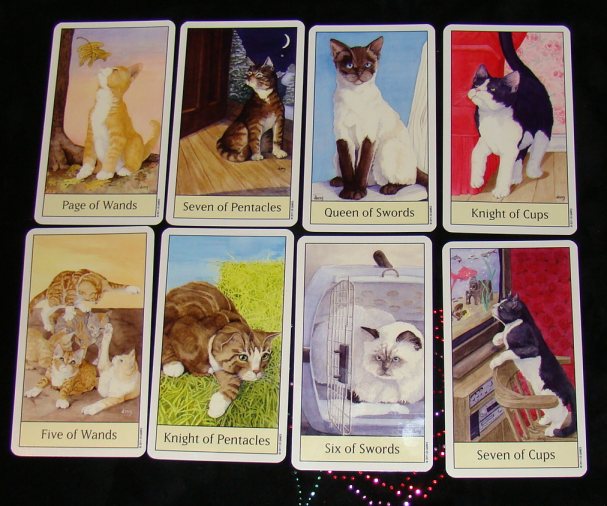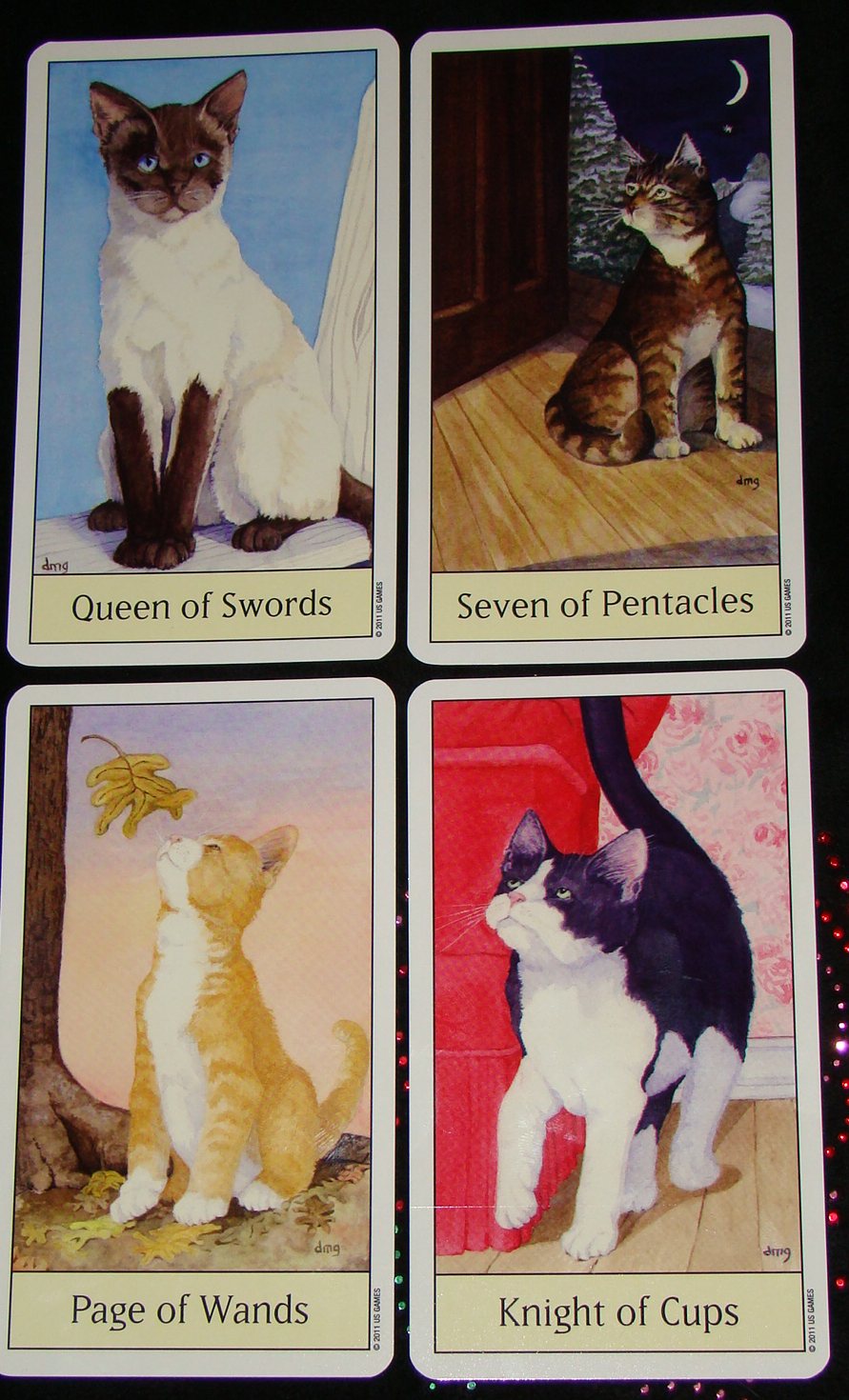 Court Cards: Cats strictly adhere to the color of their suit as mentioned above. Pages are kittens, Knights are young cats, Queens are adult cats, and Kings are big adult cats. For those new to tarot, it might  be somewhat confusing to understand the meanings of these cards, but the little white book gives good guidance.
Accompanying literature: Little White Book (LWB), same dimension as the cards. The LWB has one sample card spread suggestion in the back, a "Nine Lives Spread" that contains 9 cards and it uncovers where we are, where we have been, and how we got there, as well as where we are going next. A LWB sample Page is shown below.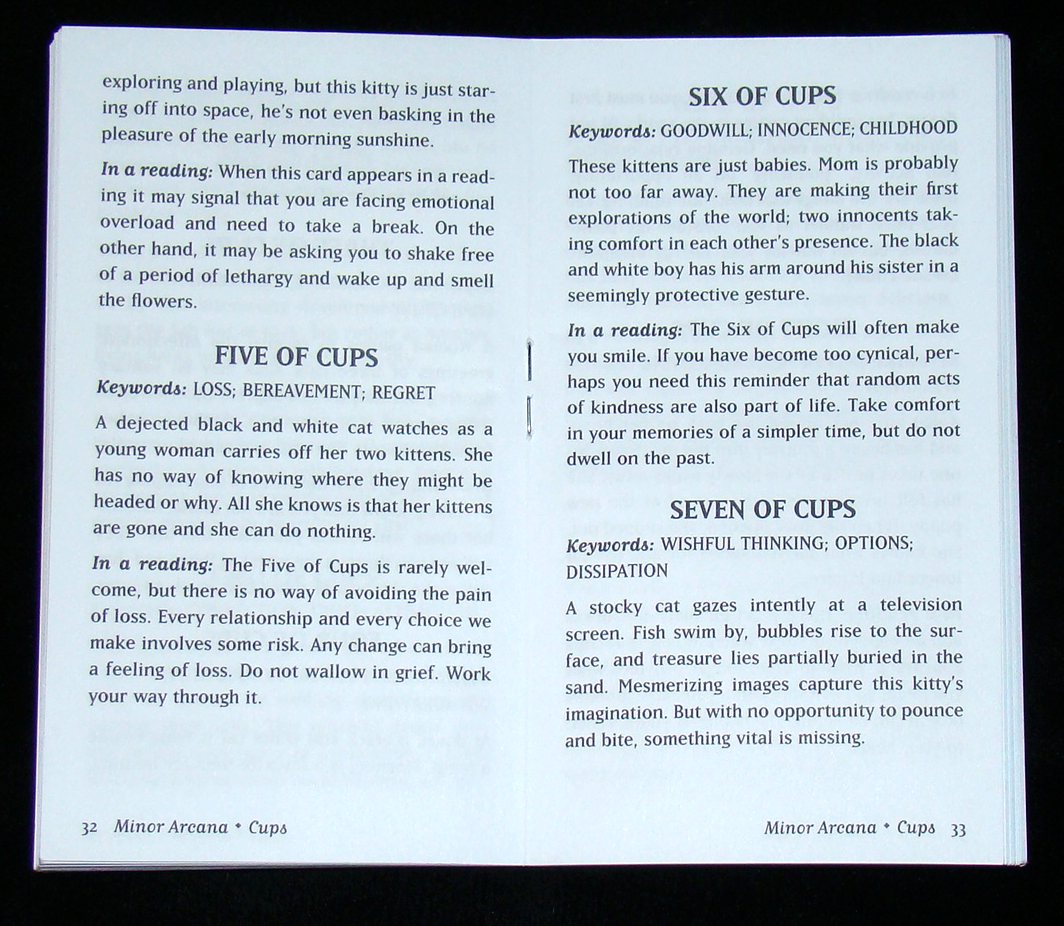 The Aces in the traditional Rider Waite decks are shown as hands emerging out of the clouds, holding their suit. Likewise, in this modern deck, Dr. Givin captures the same "arm from the air" quality as the cats reach in from outside the deck's border, reaching for a critter representing its element (a bird for air,  mouse on the earth, snake is fire, and fish for water)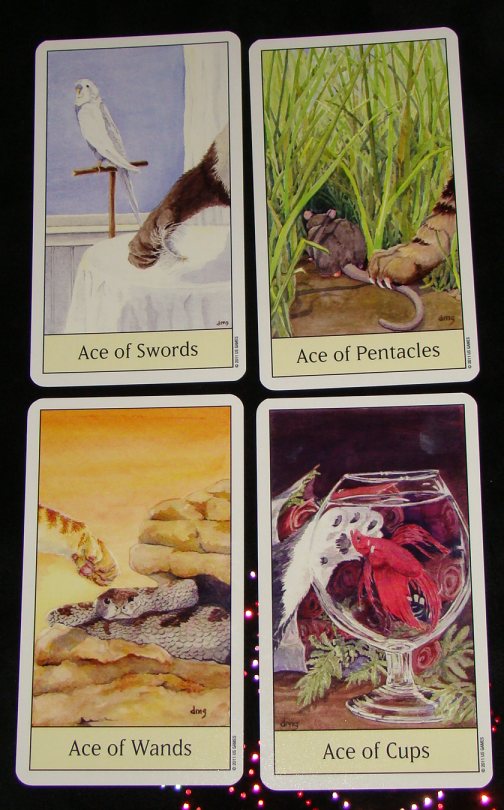 My personal opinion:
This is a brilliant, beautiful, humorous, smart, highly creative deck, and one of the more beautiful decks on the market. It may be a bit difficult for a first-time tarot reader to understand, due to the subtle nuances of the cats' actions, but the images will appeal to all levels of readers. Veteran readers will find the imagery of the cards amusing. There is very skilled art, easy on the eyes, and with great humor in the cards. The cards are gentle, appropriate for use with children or teens, and provide accurate and insightful readings.

Some of my favorite cards: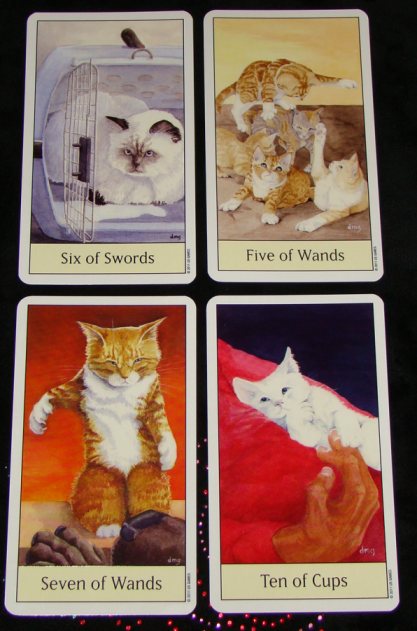 ABOVE:
The 6 of Swords is typically a card of "moving away." Instead of people in a boat, this cat is in his carrier ready for a move. Is he going to a better place?
The 5 of Wands is a card of bantering, usually showing 5 men sparring with wands. Here we see 5 cats in a playful group wrestle.
The 7 of Wands, usually showing a man at the top of a hill, fending himself off from the tips of wands poking up at him from unseen assailants, is shown in this card as a cat on a counter with the family dog sniffing up at him, trapping him there.
And the 10 of Cups, the card of family, happy home, and "happily ever after," is shown  as a cat contentedly cuddles in its owners arms, with a loving look up and a completely relaxed body posture. Every cat's dream, right?
Samples of Major Arcana cards that many people look for in decks when considering a purchase: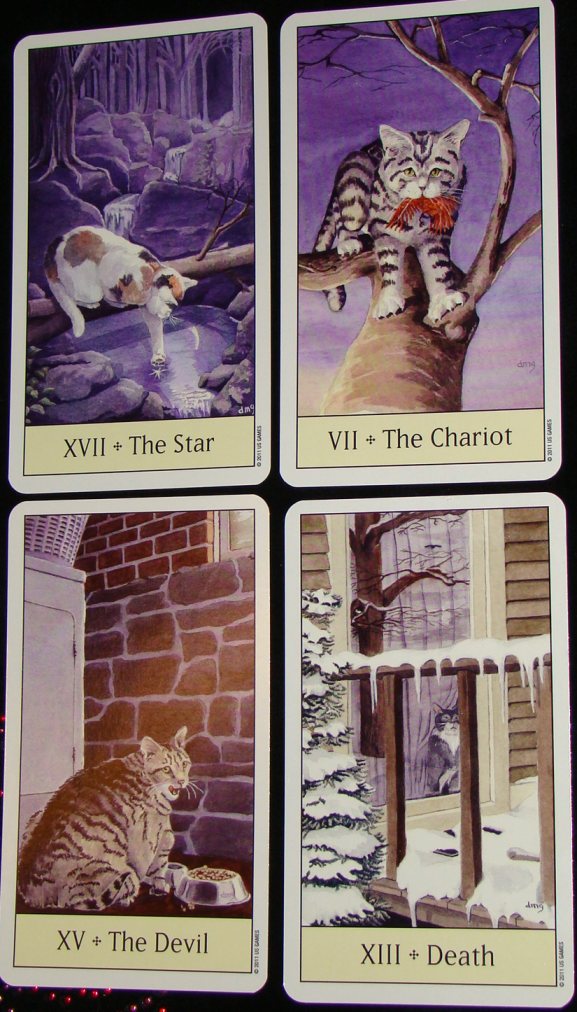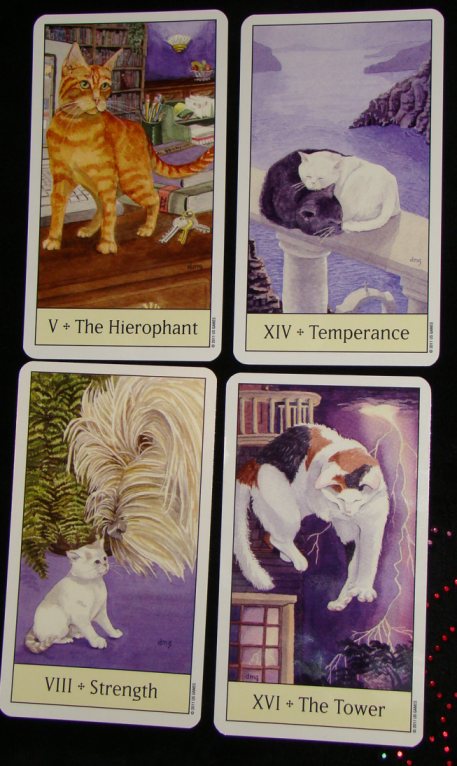 The Cat's Eye Tarot can be purchased at your  local book seller, The Tarot Garden, or online book sellers.
To test drive this deck in a reading, have some fun with the online 3-card reading generator HERE.

Final Notes:

This deck is highly recommended and would make a delightful and useful addition to any collection. This is also a great working deck, and with no frightening images or nudity it is appropriate for all  ages.
Dr. Debra Givin, will be our featured guest on Tarot Tribe: Beyond Worlds on Sunday, January 22, 2012. To set your reminder or to hear it in the archives after the show is complete, CLICK HERE or on the image below. The podcast is also available on iTunes. For information on how to listen or download the podcast, CLICK HERE.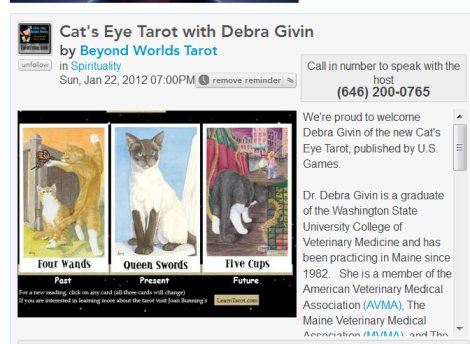 Here's wishing you a feline-filled week,
Warmly,

Donnaleigh